Donation to FLEET
Wadebridge Rotary Club presents a cheque to FLEET from Wheels 2017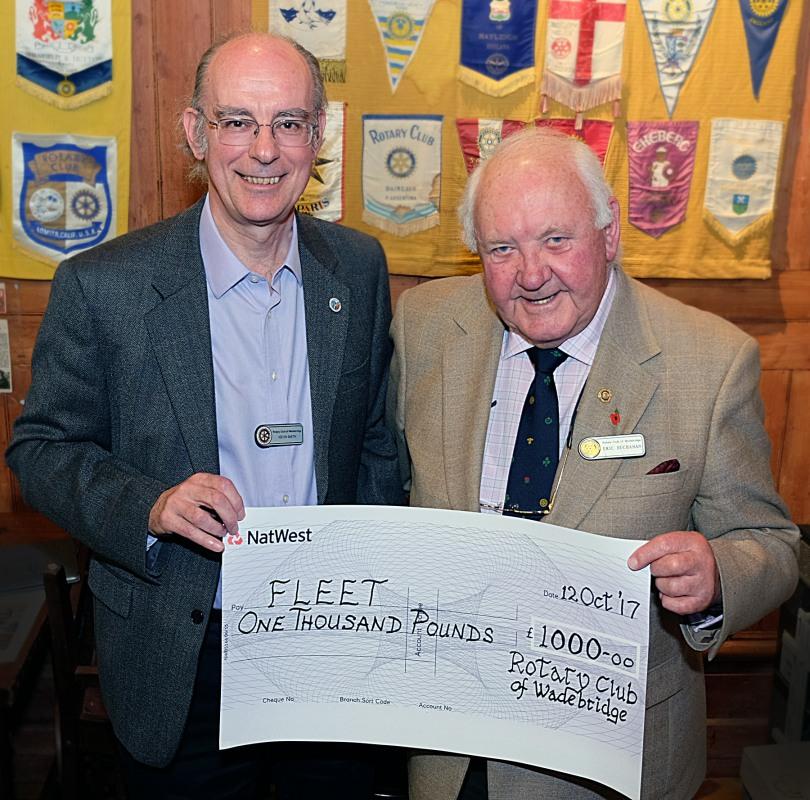 FLEET AND WADEBRIDGE ROTARY WORKING TOGETHER
Wadebridge Rotary Club's annual event at the Royal Cornwall Showground has once again resulted in a proudly made donation of £1,000 to the highly deserving charity, FLEET (Front Line Emergency Equipment Trust). The Club's very own Eric Buchanan (pictured below receiving the cheque on behalf of FLEET) is the charity's Treasurer.
FLEET was formed by Cornish Ambulance Staff in 1990 with the aim of upgrading and standardising the equipment carried on all of Cornwall's Ambulances. With generous help from the Cornish people, businesses and organisations FLEET has raised over £1,000,000 since 1990, all of which has been put into providing vital equipment that helps save lives across the county.
Since its' inception the aim of FLEET has widened and the charity now provides equipment to all the services which give emergency medical support to the public. FLEET equipment is in constant use on
• all the county's emergency ambulances
• emergency response motorbikes and cars
• Royal Naval Search and Rescue helicopters
• Cornwall County Fire Engines
• Cornish HM Coastguard teams
• Cornish RNLI Lifeboats
• Cornwall's Air Ambulance
More recently FLEET, with the British Heart Foundation, has been instrumental in the creation and equipping of First Responders who are members of the public trained to provide critical life-saving treatment including defibrillation in their local area. This has helped to cut emergency response times by 3% and ultimately save lives.
The Rotary Club wishes FLEET it's very best wishes for all it does and looks forward to many more years working with this great local Charity.
Photo features Club President Kevin Smith (L) and Eric Buchanan (R)
Report by Graham Renwick. Photo by Martin Broadfoot.