Cycle Ride to Conquer Polio
Wadebridge Rotary Club holds a static cycle ride to combat Polio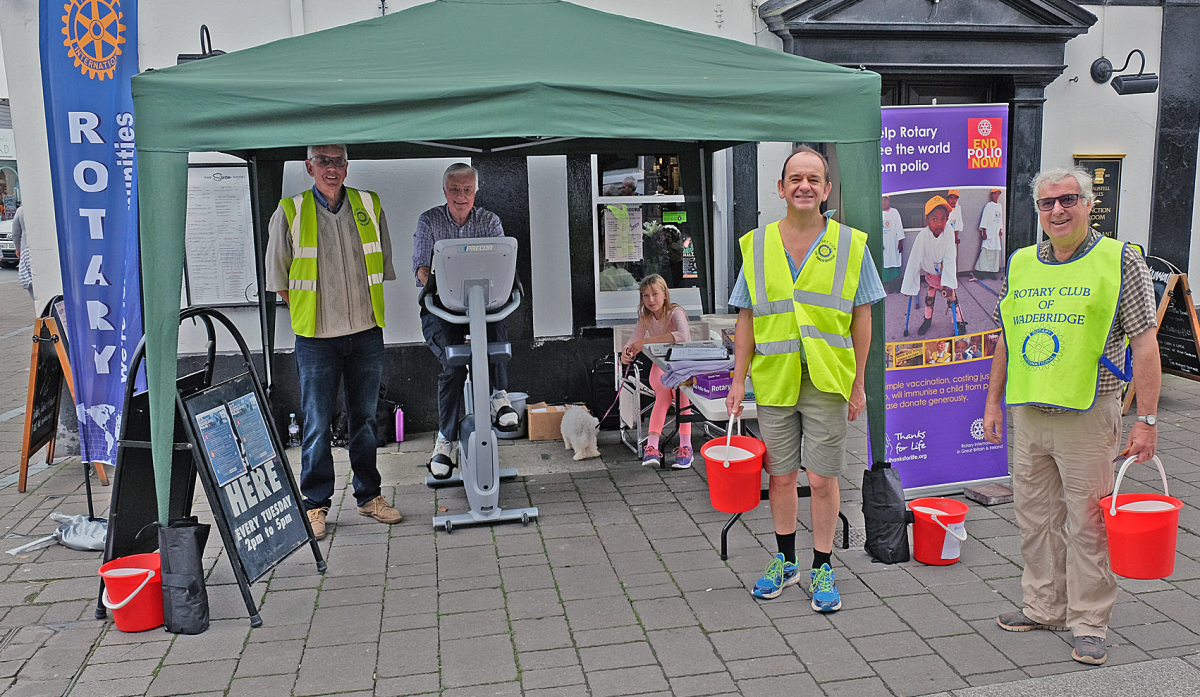 Show related pages
WADEBRIDGE ROTARY MANAGES TO CYCLE FROM WADEBRIDGE TO EXETER WITHOUT LEAVING MOLESWORTH STREET
Members of Wadebridge Rotary Club and some family members managed to cover the distance from Wadebridge to Exeter by working in relay on a static cycling bike borrowed from One2One fitness centre over the period from 10 a.m. to 4 p.m. This Rotary Ride was to raise money for the Rotary Foundation Purple4Polio campaign. The people of Wadebridge and visitors responded in a most generous manner raising a total of £251, which will pay for over 1200 children to be immunised.
Since Rotary and its partners launched the Global Polio Eradication Initiative nearly 30 years ago, the incidence of polio has plummeted by more than 99.9 per cent from about 350,000 cases a year in 125 countries to just 37 cases in three remaining polio-endemic countries, Afghanistan, Pakistan and Nigeria, in 2016.
Purple is the colour of the dye placed on the little finger on the left hand of a child to show they have been immunised against polio, hence the name Purple4Polio. With millions of children to vaccinate, this makes it easier to see who has been protected and who has not. Polio is a vaccine preventable disease that still threatens children in parts of the world today. The money raised will be helping to make history by raising awareness, funds and support to wipe polio off the face of the earth.
Report by Nick Rowles. Photo (L to R) Rotarians Nick Rowles, Graham Renwick (cycling), Mike Dodd & Phil Harris, with Alice keeping record in the background.