Christmas Charity Salsa Party
Mon 18th December 2017 at 19.30 - 22.30
Marlow Bridge Rotary Club with support from SalsaStyle & The Olde Bell invite you to a CHRISTMAS CHARITY SALSA PARTY in aid of Build on Books on Monday 18th December.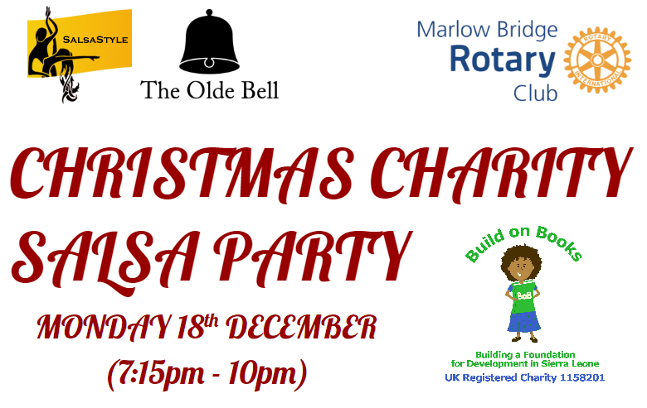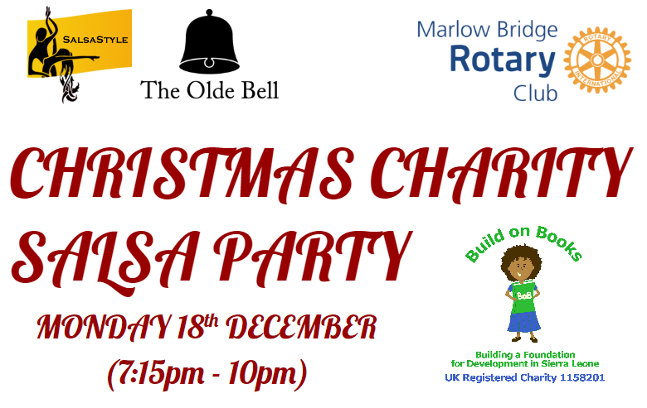 If you've ever wanted to try Salsa, this will be a fantastic opportunity to do so while supporting a great charity … and of course enjoying some food, drink and Christmas cheer as well.

WE ARE TRYING TO RAISE AS MUCH AS POSSIBLE TO SUPPORT THE GREAT WORK THAT BUILD ON BOOKS ARE DOING WITH THE CHILDREN & FAMILIES IN SIERRA LEONE AND WE ARE SUGGESTING A DONATION OF £20 PER PERSON - https://mydonate.bt.com/fundraisers/mbrc-xmassalsa2017

The evening will begin at 7:30pm with a Salsa Class run by SalsaStyle (don't worry they cater from beginners to advanced levels), we'll then take a break for some Sandwiches and Chips (there will also be a bar available to purchase drinks).

Once you've had a time to digest we'll continue the evening with some more Salsa dancing until your feet decide it's time to go home.

You can find out about our supporters SalsaStyle at www.salsastyle.co.ukand The Olde Bell at www.theoldebell.co.uk.

Build on Books is a UK registered charity which began in Marlow, Buckinghamshire in 2009. Since then has helped put books in 170+ schools and libraries in Sierra Leone. We still send books but we also build boreholes, build farms and much more.

If you'd like to read more about the work they are doing in Sierra Leone please take a look at their website : www.buildonbooks.com and Facebook Page : www.facebook.com/BuildOnBooks.