Angus Wood Blandford Spooktacular 2019
Angus Wood a local environmental community resource
thumbnail view
The Angus Wood Halloween night - hugely popular with parents and children of all ages - is not to be missed. Small entrance fee gives us the income needed to cover public liability insurance and maintain the wood. Angus Wood is managed by the Blandford Environmental Trust - a joint venture between Blandford Town Museum, Blandford Rotary and local residents. We welcome new blood - come along to help at our monthly work mornings from 10 - 12 am on the last Saturday of the month. Coffee and biscuits provided.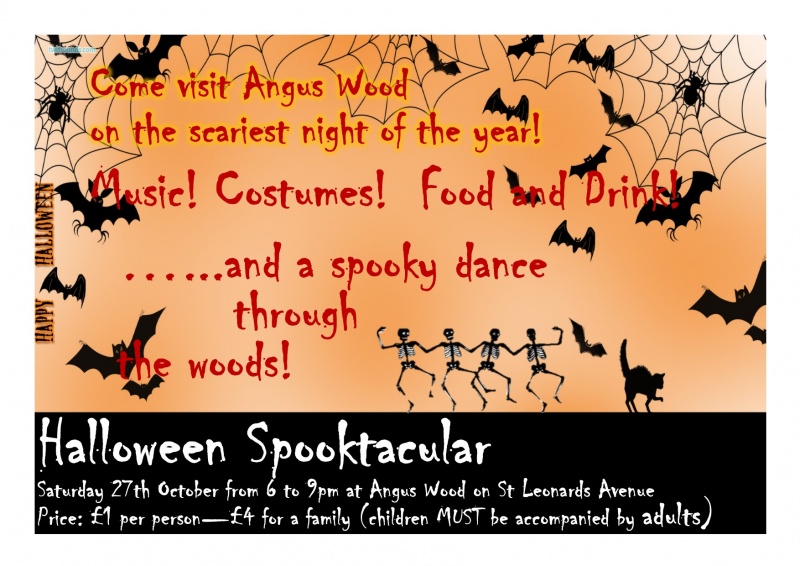 Angus Wood Blandford is situated just off St Leonard's Avenue and covers an area of about one acre. Once a scruffy overgrown woodland it has been given a complete "makeover" and transformed into a small green oasis by the Blandford Rotary Club, the Blandford Environmental Trust and the welcome support of the Dorset Wildlife Trust.
Since taking over management of the site, the trust has planted another 60 hardwood trees alongside the existing ash, beech, cherry, lime and other woodland trees and shrubs. Rotarians have given their time to clear and tidy up the wood and a lick of paint to the boundary railings has smartened it up to make the area an excellent setting for community events.
Angus wood is freely accessible to all who live in the Blandford area, a short circular path winds its way through the trees and opens up into a small glade. It's well worth a visit.
We maintain the woodland by holding "work days" for our members and other volunteers.
Support us by becoming a Friend of Angus Wood under the auspices of the Blandford Environmental Trust.
Friend of Angus Wood application form