Youth Speaks Competition
The Roatary Youth Speaks Competition is designed to support & encourage the development of effective communication skills.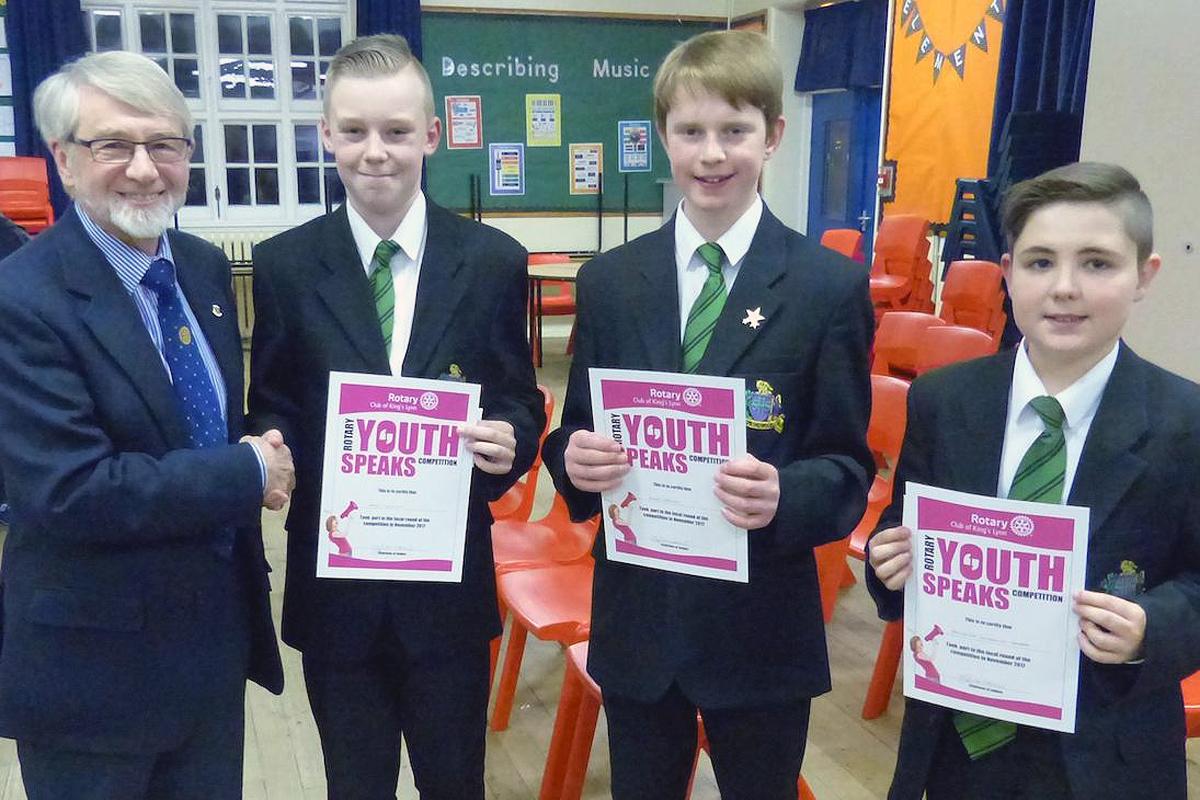 The Rotary Club of King's Lynn, who sponsored the competiton on behalf of Rotary International of Great Britain and Ireland, contacted local schools, inviting them to enter a team (or teams) of pupils aged 11 - 13 years (intermediate) and 14 - 17 years (senior) into The Rotary Youth Speaks Competition and the first round was held at the King Edward Vll Academy on 28th November 2017.

Four teams entered the competition and held their audience spellbound by their confidence and competence when they spoke on themes varying from "E" Safety to "The Rich exploiting the poor".

The winning team in the intermediate catagory was entered by the Springwood High School whose topic was E-Safety. Each team member spoke entirely without notes or jottings. Team Chairperson - Mackenzie Whitehouse-Baker, opened their presentation with flair and confidence and introduced his team and their choice of subject, E-Safety. The team's main speaker was Finley Meehan who spoke with fluency on what is today a very real problem for young and old, explaining the pitfalls and possible ways to avoid being led astray on the Internet and on Social Media. The winding up and vote of thanks was given by Harry Davidson and the team fielded questions from the audience.

Other teams were entered by K.E.S. (in both catagories) and King's Lynn Academy.

All the participants received certificates and small prizes were awarded to the winning and the senior teams.

The winning team went on to represent King's Lynn in the District Final at the College of West Anglia in February and were again successful. They also won the Regional Final in Chelmsford and so got through to the National Final in Exmouth in May.

===============================================
A few notes relating to the competition:
The Rotary Youth Speaks Competition is a well-established and successful competition organised and promoted by Rotary International in Great Britain and Ireland. It is a four-stage competition which is designed to support and encourage the development of effective communication skills. Some stages may have more than one round.
This competition aims to offer young people:
· experience in speaking on a public platform as a member of a team
· an incentive to formulate ideas on topical subjects
· discipline in dealing with a topic in a limited time
· the opportunity of learning and practising high standards of expression, presentation and appearance
· impartial feedback and assessment of performance by experienced adjudicators
Who can take part?
The competition is open all schools and college communities including those that are home educated and any other young people's community organisations, for example, community RotaKids, community Interact, Scout Groups, Girl Guides.
Each team will comprise of three students in full time education in two age groups:
Intermediate: 11 to 13 years Senior: 14 to 17 years
===========================================================