Graham Dodd speaking on be 'A glimpse of life on the Shropshire Union Canal'.
Tue 20th February 2018 at 12.45 - 14.00
Desk - Tim Marsden, Vote of thanks and report - David Fishburne, Raffle - Geoff Parsons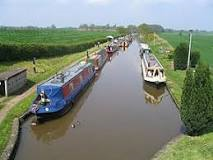 Mike Houlston introduced Dr Graham Dodd to speak on the History of the Shropshire Union Canal.
Graham's talk was illustrated by many well known landmarks of the canal and he explained it's relationship with the railway and its use for transporting coal, iron, cheese from Cheshire to the Midlands and detailing the various types of barges used over the years.
David Fishburne thanked Graham for an excellent presentation and hoped that he would return to the Club and give another of his famed talks.
The history can be viewed by refering to the following article:- Shropshire_Union_Canal_History.docx