Rotary Club of Wensleydale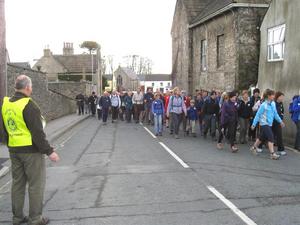 The annual Wensleydale Wander took place on Saturday 26th. April. This 22 mile or 12 mile Charity event had 249 entries and 229 brave souls walked or ran the short or long course that takes in some of the magnificent views of Wensleydale whether one chooses the long or short route.  Polio Plus received a cheque for £1,000 as a result of the Wander and the money will go towards immunisation projects in India. Other local charities will benefit from the event. Having a good walk, a good meal at the end in Wensleydale School with the realisation that their efforts may result in a child escaping Polio surely makes the hard work worthwhile.
A summary of results is as follows;
Male Long 1st Stuart Mechie 3 hrs 21 2nd Paul Morgan 3 hrs 27 3rd= Martin Gabriel Peter Chapman Ian Wallace Ray Raper 3 hrs 31.10
Female Long  1st = Annette Clark/Denise Ann Kelvey-Brown 3 hrs 35 2nd Claire Stewart 3 hrs 50
Difficult to work out Long Walkers results as some look as though they ran
Male Long Veteran Run Ian Scott 4 hrs 35  2nd Graeme Adams 4 hrs 49
Male Veteran Long Walk 1st Brian Winn 5 hrs 24 2nd Edward Ward 6 hrs 33 3rd George Elliott 6 hrs 41
Female Long Veteran 1st Ann Winn 5hrs 24 2nd Catherine Armstrong 7 hrs 24
Male Short 1st Lawrence Mccourt 1 hr 54 - aged 14 2nd = Duncan Ross-Russell/Matthew Heron 1 hr 54.50
Male Short Veteran Run1st Maurice Henry Smith 3 hrs 35 2nd Joseph D Wade 4 hrs 04 3rd Brian Latto 4 hrs 24
Female Short Runners 1st Rachel Ross-Russell 1hr 53 2nd Denise Tunstall 1hr 54.50
3rd Oonagh Bathgate1 hr 59.10
Female short walkers 1st = Chris Mcaleenan/Virginia Hutchinson 3hrs 11 2nd Helen Roberts 3 hrs 20
Female Short Run Veteran 1st Pamela Sherlock 3 hrs 11 2nd Grace Burns 3 hrs 35 3rd Sheila Latto 4 hrs 24  
As you will see, there were many more runners this year. Perhaps the Wander is good training for the half and full marathon!