On the Road & In the Round
Sat 27th October 2018 at 19.30 - 23.00
A Nashville - Style 'In The Round' concert tour featuring the combined talents of these 3 hugely gifted artists will arrive in the UK in October: This UK Tour finishes in Daventry in support of The Helping Harry Trust.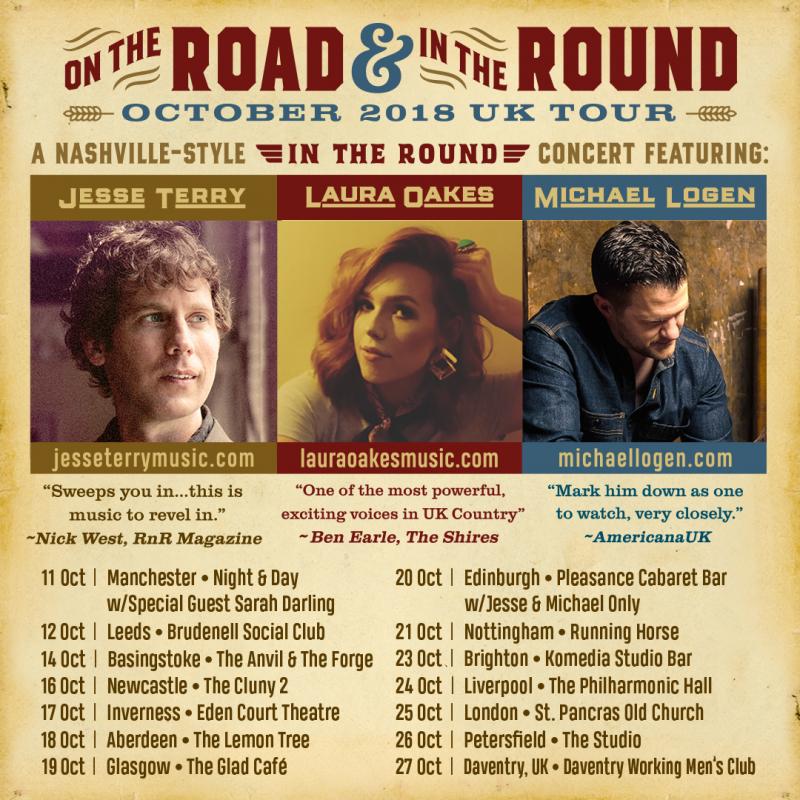 Read the details below and then come back here and Click here to purchase tickets
On the Road & In the Round tour comes to UK October 2018 featuring:
Jesse Terry / Laura Oakes / Michael Logen
It is with regret that Lizanne Knott is unable to make the "On The Road And In The Round" UK Tour with Jesse Terry and Michael Logen following receipt of medical advice. We all wish her well. As a result, Laura Oakes, from Liverpool, who was first spotted on The Voice in 2013, will be joining Jesse and Michael to perform at Harry's Concert on 27th October.
Supporting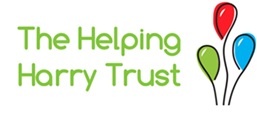 Click here to discover more about Harry's Trust
Click here for a taster of the music you will hear
A Nashville - Style 'In The Round' concert tour featuring the combined talents of these 3 hugely gifted artists will arrive in the UK in October:
They will each play a selection of songs from their respective past and present releases, combine on duets and never seen before collaborations, and share the stories behind their songs.
OCTOBER 2018:
Thursday 11 - MANCHESTER Night & Day
Friday 12 - LEEDS Brudenell Social Club
Sunday 14 - BASINGSTOKE The Anvil and The Forge
Tuesday 16 - NEWCASTLE The Cluny
Wednesday 17 - INVERNESS Eden Court Theatre
Thursday 18 - ABERDEEN The Lemon Tree
Friday 19 - GLASGOW The Glad Cafe
Saturday 20 - EDINBURGH Pleasance Cabaret Bar
Tuesday 23 - BRIGHTON Komedia Studio Bar
Wednesday 24 - LIVERPOOL The Philharmonic Hall
Thursday 25 - LONDON St Pancras Old Church
Friday 26 - PETERSFIELD The Studio
Saturday 27 - DAVENTRY Working Mans Club
Jesse Terry:

A true musical journeyman, New England-based singer/songwriter Jesse Terry has made it his mission to share his love of music fully and completely, without regard for shading his emotions or tempering his convictions. The ability to create a connection, to bare his soul and express his feelings through his songs has been the defining thread in a career that began in 2010 and has spawned five albums (The Runner, Empty Seat on a Plane, Stay Here With Me, and his latest pair, Stargazer and Natural). A career that has seen Terry play over a thousand shows around the world, including such notable festivals as Bonnaroo, 30A Songwriters Festival, Philadelphia Folk Festival and the Americana Music Association's AmericanaFest.
Natural, a very sparse and acoustic album compared to its predecessor Stargazer, finds Jesse relying on a more organic approach to his music, while adding an additional layer of emotional impact with the help of some of the female singers he admires most: Dar Williams, Cary Ann Hearst of Shovels & Rope, Liz Longley, Kim Richey, Annie Clements, Sarah Darling and Erin Rae.
"Stargazer, nigh perfect, sweeps you in and on first hearing overwhelms... this is music to revel in, so just revel till the starlight fades." Nick West / RnR Magazine Facebook Twitter Instagram Website
Laura Oakes:


Laura has enjoyed live dates at some of the UK's most prestigious festivals as well as support slots for some of the most notable talent coming out of the UK and US, including Andrew Combs, Devin Dawson, The Shires, Colm Mac Com Iomaire (The Frames) and Ward Thomas.
Her latest acoustic EP "Nashville Stole Your Girl", released at the end of September 2017, achieved number 5 in the iTunes UK Country Music Chart and received much critical acclaim including securing a session on Bob Harris' BBC Radio 2 Country show.
Laura is has enjoyed a busy 2018 including a month long writing trip to Nashville, now armed with a batch of fresh songs she's working hard towards her next release and continues to curate her night "Laura Oakes Hosts…" down at The Green Note, Camden.
"Carrie Underwood + Dixie Chicks + Maren Morris = Laura Oakes" – Spotify
"Laura has one of the most powerful, exciting voices in UK Country
" - Ben Earle, The Shires
Michael Logen:

"Grammy-Nominated Folk/Americana artist Michael Logen is based in Nashville, but also tours extensively throughout the UK, Ireland, Switzerland, Netherlands and Denmark. He has opened for artists like John Legend, John Hiatt, Mat Kearney, Jonny Lang and India.Arie and his music can be heard on NPR, BBC, VH1 and TV shows like, "Nashville", "Suits", "Parenthood", "One Tree Hill" and "The Fosters". Also a Grammy-winning, Platinum-selling Songwriter, Michael's songs have been recorded by artists such as Kelly Clarkson, Mat Kearney, Jonny Lang, Paul Carrack, The Greencards, Will Hoge, Delerium and many others.
"Mark him down as one to watch, very closely" - AmericanaUK