Nepal Project 2018
International Committee plans for fund raising and spending of funds raised for the benefit of Nepalese schoolchildren. For update on Auction see below.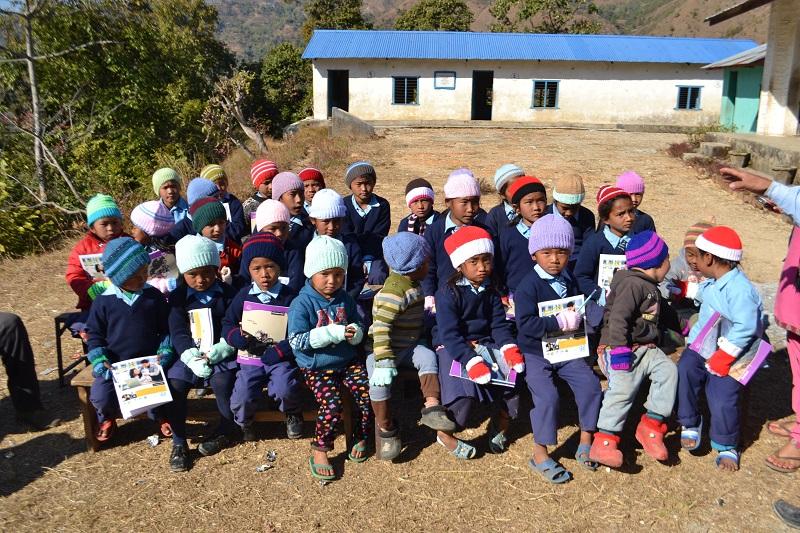 The Rotary Club of Kirriemuir is embarking on an ambitious programme of fund raising to build toilet blocks in schools in the Syangja District of Nepal. Some of our club members self-funded a visit to Nepal in 2017 and had the opportunity to visit a number of schools whilst there. The Shree Jiwan Jyoti Secondary school where we had funded the rebuilding of classrooms and the building of a toilet block had two toilets for the school prior to our funding. The school had 562 pupils and one of the toilets was in the headmaster's office! Most schools have a similar lack of toilets. What does this mean for the children? Many do not attend, particularly girls when they reach puberty.Those who persist restrict their fluid intake with resultant health problems. We have a plan for making sure that all schools in the Syangja District with more than 200 pupils have a toilet block with water and sanitation facilities. The Rotary Club of the Himalayan Gurkhas(RCHG) are our partners.
Whilst toilet facilities might encourage children to attend school, we realised there was another equally big and important issue...many of the teachers are poorly trained or have no training at all and where learning does take place it is by rote. Often the children are left in the classrooms on their own. This posed a greater problem for us. What help encouraging the children to attend school if the teaching methods are archaic?
There is an enormous need to bring about substantial and long lasting changes in the educational provision in rural Nepal. Working with the RCHG and another charity, First Steps Himalaya (FSH) we would like to introduce an Early Years Education Support Programme to the schools in Syangja District. We propose that 8 schools be involved and classes from preschool to level 3. FSH will consult with the headmasters, the teachers and the local communities. They will introduce teachers to modern child centred teaching methods. They will fit out classrooms and provide a stimulating environment in which to learn. They will train the teachers and regularly visit the schools and they will supervise and monitor the project. The project will last 2 years with follow up for a further 3 years.
FSH have already completed a successful project in the Sindhupalock District where the children now benefit from motivated teachers who are supportive of children's learning. FSH will work with RCHG in implementing the programme with the RCHG responsible for the construction of the toilet blocks.
This is an exciting project to be involved with but it will cost a lot of money! The sum we need to raise to implement the whole programme is £115000, but we are confident that with your help we will achieve it!
We have a number of fund raising events planned over the next few months including a Quiz Night in the Northmuir Hall on 24 March, our annual Duck Race on Easter Sunday in Kirriemuir Den, a Ladies only Afternoon Tea in June, a golf tournament (date to be fixed), and a Dinner in the Town Hall Kirriemuir on 22 September. If you can support us at any of these events or would like more information please contact Barbara Lovegrove on 01575560267 or any Kirriemuir rotarian. We have also opened an account with the Bank of Scotland where you can donate directly
a/c 06003241 ref Nepal Sort code 80-06-77.
ToDonatethrough"TotalGiving"copy and paste link below into search bar:
http://givi.ng/SC035958
Any support you can give is most welcome,
"Mony a mickle maks a muckle"
Thank you.
Barbara Lovegrove Rotary Club of Kirriemuir
barbara.lovegrove@gmail.com
2. Auction, Saturday 21st July 2018,
in aid of Nepal Project.
For the auction to be a success we need two things
Lots of items Lots of people
All of us can do something!!! Here are a few suggestions.
Experiences eg a family tour of the Beavers habitat at Bamff Estate
A ton bag of logs
A car service A car valet
A day's labour from a painter, a joiner and a slater
A sweet for 8 for a dinner party
An energy performance certificate for a domestic property
A bag of dog food A cut and blow dry A farm tour
We will have an auction with a glass of wine and entry of £5 on the evening and all items will be available to view on line.
We are looking for items that are manageable. We do not want a lot of delivery problems and we are looking for items that do not cost the donor a lot of money but perhaps their time instead. (Although if you are offered anything please also think could it be auctioned at the dinner)
Please be sensitive if you ask people outside your family, particularly businesses as we do not want to sicken people with asking for support when they have already been asked !
Any questions or doubts please speak to a member of the International Committee. The items above have already been donated!!
Remember our motto SERVICE ABOVE SELF !! What can you do??