Ashby's Loudoun Monument Goes Purple4Polio
Ashby de la Zouch Rotary has made historic progress towards a polio-free world by lighting up the Loudoun monument in Bath Street and will light the memorial again for the 2019 polio day on the 24th of October.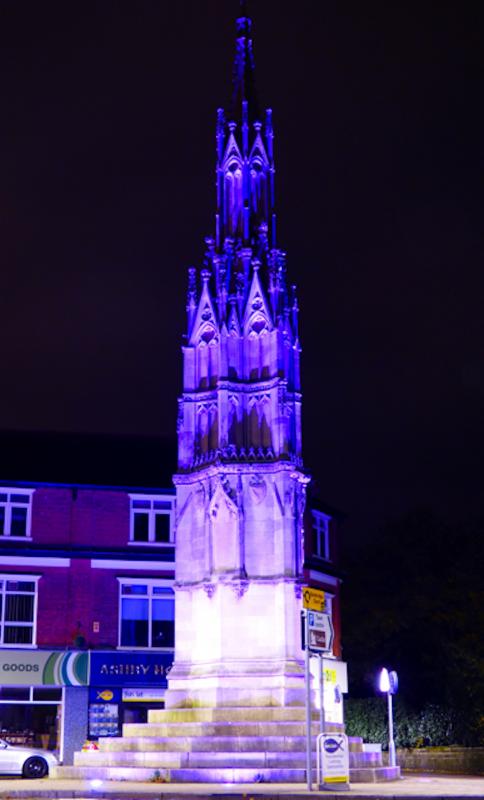 The Rotary Club of Ashby de la Zouch has made historic progress towards a polio-free world by lighting up the Loudoun monument in Bath Street, Ashby in 2017 and will do so again in 2019 and urges communities to support the battle to end the paralysing and sometimes fatal disease by visiting Marks and Spencer and Aldi in Ashby where collections will be taking place.
Afghanistan and Pakistan are now the only two countries where wild poliovirus cases are being reported
The event is among thousands held by Rotary across the globe on World Polio Day, 24th October 2017 and will be held again on the 24th October 2019. To mark the day, Rotarians across Britain and Ireland are lighting up iconic buildings purple and holding other events for World Polio Day, as part of Rotary International in Great Britain and Ireland's Purple4Polio campaign.
Purple is the colour of the dye placed on the little finger on the left hand of a child to show they have been immunised against polio, hence the name Purple4Polio. With millions of children to vaccinate, this makes it easier to see who has been protected and who has not.
The Ashby de la Zouch Town Council, led by Deputy Mayor, Councillor John Coxon, has agreed that the much loved Loudoun Monument will be lit up with purple light. In addition, the Ashby Rotary Club will display End Polio Now in Market Street where the public will be able to learn more about the audacious programme to eradicate polio from the face of the world. Every child in the world must be inoculated at a cost of only 30p per child.
Ashby Rotary Club has forefronted the push in this last step to achieve the goal of a polio free world which will be a terrific legacy for the world.
In 2017 Deputy Town Mayor John Coxon remarked that 'While our local children are receiving polio inoculations as part of their routine health care, there still must be a risk of polio returning. Ashby people will be interested to learn of your campaign.'
Since Rotary and its partners launched the Global Polio Eradication Initiative nearly 30 years ago, the incidence of polio has plummeted by more than 99.9 percent, from about 350,000 cases a year in 125 countries to just 11 cases in two polio-endemic countries, Afghanistan and Pakistan this year so far.
To sustain this progress and protect all children from polio, Rotary has committed to raising US$50 million per year over the next three years in support of global polio eradication efforts. The Bill & Melinda Gates Foundation will match Rotary's commitment 2:1. Without full funding and political commitment, this paralysing disease could return to previously polio-free countries, putting children everywhere at risk.
Rotary International in Great Britain and Ireland has joined forces with the Royal Horticultural Society to plant about five million purple crocus corms across Britain and Ireland. This adds to the seven million planted in 2016, several thousand of which were planted in Ashby, as part of the campaign to End Polio Now.
Rotary has contributed more than US$1.7 billion to ending polio since 1985, including countless man-hours freely given. It is estimated that 16 million children globally would otherwise have suffered from polio had it not been for Rotary's sustained programme.
End Polio Now website https://www.endpolio.org