Talk by Stephen Cameron on the Patricia Curran Murder
Stephen Cameron (on the left) with President Steve Blayney and Alastair Walker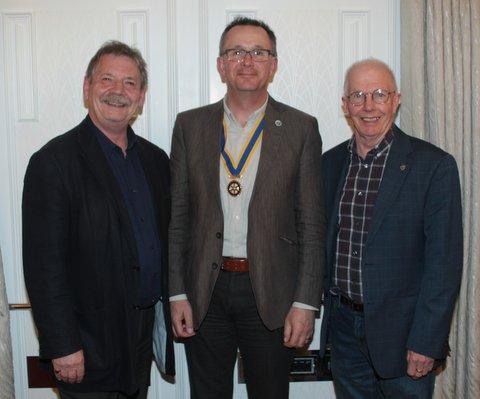 Historian and author Stephen Cameron recently spoke to North Down Rotary Club on the subject of the murder in 1953 of Patricia Curran, daughter of a well-known Northern Ireland judge and Unionist politician. Stephen was introduced by Alastair Walker, who mentioned that he was for many years Chairman of the Belfast Titanic Society and that he had written two books about the Titanic and also one about the loss of the Princess Victoria.
Stephen described the circumstances in which the young Queen's University student had met her death on a November evening while returning to her home in Whiteabbey. He told the story of how a young aircraftman, Ian Gordon, from the nearby RAF base had come under suspicion and had eventually been charged with the murder. His conviction of murder while insane was contentious at the time and after many decades was overthrown on appeal. No other person has been charged.
Stephen highlighted the gaps in the evidence and the apparent contradictions between witness and circumstantial evidence. Patricia's body was not found close to the lane way to her home until the early hours of the next morning and the site was immediately badly disturbed by those searching for her and recovering the body. It was unclear why the alarm had not been raised much earlier and Police were restricted in their investigation because of the family's demands for privacy. When the RUC sought help from the MET in London, the detectives who came over to Belfast seemed only interested in Ian Gordon and looked for no other suspect. Their methods appeared to be very heavy handed and at the later appeal the judge maintained that one of them had lied at the trial.
As no one has been named as the possible murderer, Stephen drew attention to mysteries concerning the movements and actions of some family members both on the evening in question and subsequently that have led some to believe that someone within the family knew more than they told the police. As it is now 65 years since the event and almost all of those involved are dead it is most unlikely that it will ever be known who it was that stabbed Patricia Curran 37 times on a damp November evening in Whiteabbey.
President Steve Blayney thanked Steve for a fascinating talk. As someone who had come to Northern Ireland from England he knew nothing of the story but was aware that quite a few in the Club had memories of that time. He congratulated Stephen on the depth and quality of his research.