CLUB MEETING - MERSEYSIDE BLOOD BIKES.
Mon 26th November 2018 at 18.30 - 21.00
Simon Dennett will tell us all about the work of Merseyside Blood Bikes.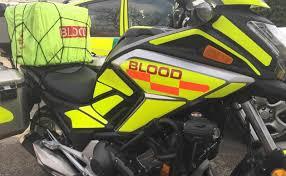 Subject:.
Merseyside Blood Bikes.

WHAT WE DO & WHY WE DO IT
"Our Goal Is To Provide A FREE But Professional Voluntary Support To Our Local NHS Hospitals Quickly Whenever Needed – IN OR OUT of Normal Office Hours Throughout Merseyside & Cheshire."
Merseyside & Cheshire Blood Bikes transports:
Blood
Plasma
Platelets
Samples
Vaccines
Factor VIII
Donor Breast milk
In Fact Anything That Can Be Carried By Motorcycle Between Hospitals:
During Normal Office Hours
Evenings
Even Throughout The Night
At Weekends and Bank Holidays
In Fact 24 Hours Per Day – 365 Days Per Year!
We provide this service to the NHS for FREE to help reduce NHS transport expenses, Thereby allowing these funds to be used to improve patients treatment etc.
Speaker:
Simon Dennett.

Club Officers of the Day:
Registration Officers: Tom Iley & Gwyn Jones.

Speaker Host/Vote of Thanks: Kay Machin.

Thought for the Day: Gerry Heaslip.