Lunch, Fellowship Meeting
Fri 7th September 2018 at 12.55 - 14.00
Visitor's Host Frank Kelly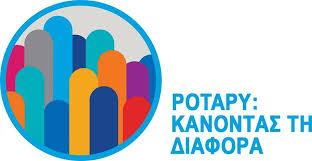 President Sandy Farquharson welcomed two visitors from Greece, Rotarian
Dimitra Soukara and her son Nicholas.
Sandy gave early notice of a one day District conference to be held in
Dundee on 28th October 2018.
We had the pleasure of hearing from both our visitors, firstly Rotarian
Dimitra Soukara from the Rotary club of Koropi, Athens, Southern Greece
district 24. Rotary clubs follow different patterns and unusually Koropi
meet twice a month in one of it's members homes each paying 15 Euros
which goes to charity, at present to to help locals who have lost their
homes in the recent major fire. The alternate meetings are usually in a
hotel, although this is not fixed. The club is also unusual in that it
meets from 9 until 11 pm after the working day, and has an average age
of 26 with 50% women members. Dimitra is well acquainted with Scotland
as she has marketed Scotch in Greece for the past 20 Years, clearly with
success as Scotch is the largest selling imported spirit. With this long
association with Scotland it is hardly surprising that her son Nicholas
chose Stirling university for his studies, having just finished a
masters degree in management, before going down to London for the next
phase of his education. Both have found Scotland very welcoming, and we
look forward to seeing them again.
Next week 14th September Speakers host Jan Anderson, Visitor's host Jim
Kerr.