2018/19 Speakers
2018/19 Speakers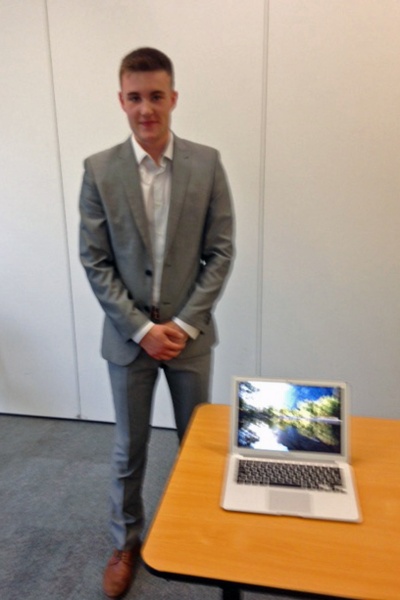 Monday 24 June at The Grange

Finn Buckingham-Ryder - RYLA Candidate
On Mon 24th June our meeting was pleased to welcome Finn Buckingham-Rhyder, this year's RYLA candidate.

He joined us to tell us about his experience at the Rotary Youth Leadership Awards week held earlier this year.

Finn is a student at Midhurst Rother College studying for his 'A' levels in Photography & Geography. He is also studying for a BTEC National diploma in Business Studies. Away from the college he has recently begun playing county level football for Chichester City.

Finn's interest in photography shone through when he won the senior section of this year's Rotary Young Photography award with some outstanding photos.

He obviously enjoyed himself during a fairly active & demanding week at RYLA, met many young people from different backgrounds and learnt how to get along with them. He feels that the RYLA week has done much to improve his own self-confidence.




Alan Austin



Monday 3rd June 2019, Cowdray Park Golf Club
Speaker: Alan Chalmers
Wimbledon – Competitors' Stand Steward
Alan lives in Midhurst and is giving a series of local talks, with Macmillan Cancer Support - Midhurst Branch the beneficiary of his efforts, based on his involvement at the Wimbledon Lawn Tennis Championships for 40 continuous years since 1976.
His role was to oversee the seating arrangements and security for the players and their guests, particularly regarding the players currently on court. This involved masterminding 4 sets of seating through the day often dealing with excitable and intoxicated individuals. Alan described the role as a complex mental operation ("as such I was strictly proactive rather than reactive").
Alan spoke for 45 minutes, and could easily have extended the presentation, as he provided a detailed summary of his role with an insight into the smooth running of the Championship year on year.
He gave members a real insight into the Tournament and regaled us with wonderful, and some surprising, stories of events, encounters and personalities from SW19 over the last 4 decades. His references were often to celebrities and tennis players well known to the audience.
Alan also talked of meetings with distant past champions and it was a lovely trip down memory lane for members who showed their interest with several questions which he was delighted to field throughout his "performance".
The members warmly thanked Alan for his entertaining and informative presentation.
Julian Goodale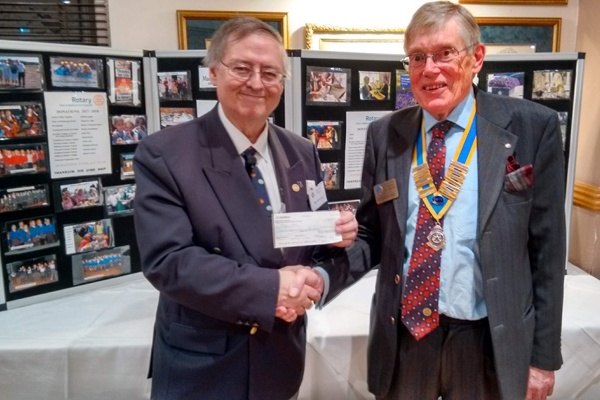 Barry Buttenshaw talked to the Partners Evening on Monday 29th April at The Golf Club.. President Richard handed him a cheque towards the fight against Polio.



Report on Foundation Grants Speaker Ron Daniels District Foundation Chairman

1

st April 2019

The club enjoyed a very good talk on Foundation Grants with lots of questions and useful interaction and clarification from Past DG Ron Daniels,

Global Grants

Having implemented and delivered a global grant project ourselves ( The Wheelchair Project) and after a workshop at the Grange, annual visits and presentations by the District Foundation Chair and training for all our International Committee Chairman at the District Assembly, I believe our club has (at last) come to terms with the mysteries of Global and District grants and most importantly the enormous added value available to us if we run a project through the effect of the multiplier which will turn our £1 into £3.50!

I will not therefore dwell on the arithmetic but do click on the link below for a full explanation. More importantly, Ron explained that our District currently had £230 K in unallocated funding (our District Designated Fund - DDF} which we were failing to invest. In fact, we had by far the greatest surplus of all the RIBI Areas. It was suggested that some of this money should be transferred to PolioPlus and Ron explained that this was in hand and scheduled for consideration at the next District meeting.

In short we need to identify the project(s) which fulfil the criteria i.e. International or home based, with an international partner club, adhering to the areas of focus: peace, disease, water & sanitation, child health, literacy and economic development. The project must be locally sustainable and not implemented by organisations other than Rotary. A proper Needs Assessment must be completed before the award of any grant and there is a mandatory requirement for a post delivery report following implementation. ( Perhaps our work with the RC of Scottburgh SA will develop into such an opportunity?)

District Grants

These are available now for small local projects. District offers £2K to match or exceed our contribution. Applications must be made by 1st July - the form is on the website.

Conclusion

Ron stressed the PR and recruitment value of delivering international and local projects and he left us with a plea to use our best endeavours to find projects and to work with other clubs in order to apply for and make good use of this available funding as grants. In order to assist us in this we asked him for as much feedback as possible on the initiatives currently being taken by other clubs in our area.

https://my.rotary.org/en/take-action/apply-grants/global-grants

Chris Wigley


Monday 11 March 2-10 at The Grange

Ian Hill - TANDEM

Ian Hill from Tandem came and visited us on one of our Twilight meetings to tell us about the great work that Tandem does for the community. We thought we knew what they did but their reach was wider than anticipated. The biggest task was the door to door picking up and taking people to medical appointments whether GP or hospital and they completed over 1000 trips a year. Based on two part time people manning the phones and the rest were volunteers in their own cars and some use of their buses if possible.
Next came the Social Outings and Events which are very popular and booked way in advance with the outdoor trips using one of their three buses. They completed 49 outings over the year and it might have been higher but the big 15 seater bus has gone to the great scrap yard in the sky!
The third activity is a Home Library Service which was very popular when the Old Library was active but since the library moved to the Grange Centre which has much better access the demand has dropped off.
Members of Tandem pay an annual sub and contribute to all trips whether medical runs or social events but it is never quite enough so they rely on reserves which have mainly come from generous legacies in the past. All in all well funded at the moment in respect of reserves but a new 15 seater bus would cost a large part of those reserves as the cost of a new one would be over £40,000. They have some difficult decisions to make and are exploring all sorts of options from replacing the big bus to borrowing one to finding a second hand one. They are exploring all angles and we wish them luck.
A big thank you to Ian for coming to our meeting and enlightening us about the great movement that is Tandem.
Adrian Moore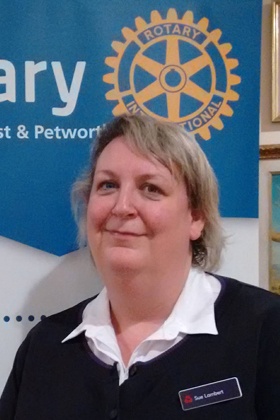 Club Meeting on Monday 18th February 2019
Speaker: Sue Lambert, Community Banker for NatWest Bank
speaking about Frauds and Scams: "Friends Against Scams".
Sue brought with her over thirty years' experience of banking and her current role in advising about and warning against Scams and Frauds. The Bank works in partnership with Trading Standards (Friends Against Scams) because scams and fraud effect everyone, young and old, professionals and investors.
Estimated figures suggest that 53% of the population are approached by a scammer in some way, 5% fall for the proposition and somewhere between £5 and £10 billion are stolen by very professional criminals, very often working in gangs and sharing or selling on lists of susceptible victims. Because victims' details are passed around the criminal world the same victims are approached multiple times.
The criminals are extremely good at their job: befriending potential victims, being helpful and if this doesn't work, they turn to threatening and aggressive tactics in order to obtain enough detail to succeed.
Sue mentioned the several different approaches, including postal contact, telephone calls, doorstep appearances and the use of e.mails – all of which involve "cold-calling". Examples include letters about phoney competition wins, telephone calls about tax and council tax bills unpaid for a period of years, rogue traders and bogus callers and phishing by e.mail using links in the message to false web pages, etc. All very persuasive.
Young people are groomed to obtain details for identity theft, to become Money Mules (money laundering with false bank accounts) and fake job adverts.
Tips to prevent: if you hover the computer cursor over the writer's name in the address bar you will see who they really are; "Take Five to Stop Fraud" – Never disclose security details, Don't assume everyone is genuine, Don't be rushed, Listen to your instincts and Stay in Control.
Actions to take: Talk to other people about the attempt, Report the approach to Action Fraud (0300 123 2040), Contact your Bank, Use Citizens' Advice Consumer Helpline (03454 040506).
Sue answered a number of questions about: Identity Theft, use of multiple bank accounts, Banks compensating fraud and scams (Fraud probably yes, scams probably no), Methods of verification of identity and Money Laundering.
Andrew Mitchell gave the vote of thanks.
Report by Peter Nightingale.
Peter Beckingham

The Foreign Office &MI6Mon 4 Feb 2019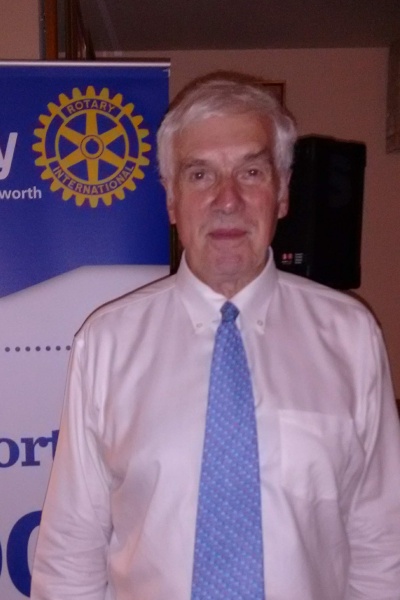 Before departing for Hawaii and the Pacific islands on the Cunard cruise ship Queen Victoria Peter Beckingham treated us to the insights of the Foreign Office. Peter is giving a series of lectures to passengers on board.
After a career of lying and spying (his words) he showed some very impressive pictures of the refurbished Foreign Office in London (including the Foreign Secretary's massive room) before embarking on a tour of embassies that he had worked in (all considerably less ornate than London). Countries he covered included USA, India, Philippines, Australia and Turks & Caicos islands. We were all left with the feeling that the sun had well and truly set on "The Empire" and that it was very much "plain fare" from now on.
The role of the Foreign Office overseas was not confined to simply "flying the flag" but there was still an expectancy to support Royal/Ministerial visitors, assist UK business needs and resolve any crisis involving British citizens. Solving the unexpected was not too much to ask even when the Royals stepped out of line and the Press required a firm but diplomatic approach to be applied. However it was clear from what Peter did not say was that the cost of FO operations was being scaled back simply by removing a range of responsibilities from the Foreign office and transferring to alternative departments.
Peter introduced us to the most famous of all Foreign Office staff – Sir Mansefield Smith- Cumming who was the First Chief of the Secret Service and founder of MI6 - better remembered now from the Bond films as "C".
We may never know the many facets that this all- embracing government department involves itself with but we are unlikely to forget the cold war anti-heroes of Anthony Blunt, Kim Philby or the more recently MI6 recruited Oleg Godetsky who now lives in the UK. Today the work of MI6 is never ending and could be taking place in any neighbourhood as demonstrated when MI6 took up residence in an ordinary Birmingham residence to eliminate Islamic terrorism or more memorably in Salisbury when novichok was applied to the door handle of UK resident Sergei Skripal. Spying and lying is all part of a day's work when you work for the Foreign Office.
Robert Morrison
Mon 21 Jan 2019 at Cowdray
Food Bank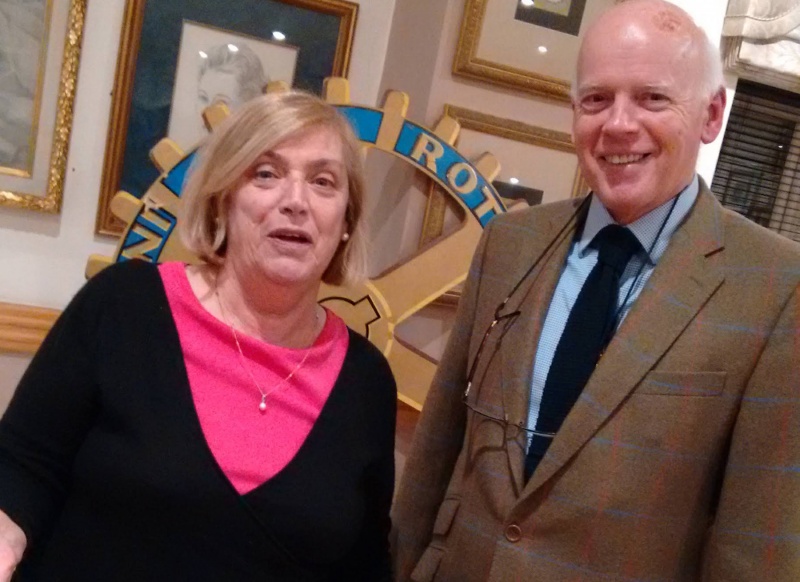 The presentation by Mike and Chrissie Abbott on the Midhurst Food Bank was particularly thought provoking and disabused me of my previous impression that one simply went to a Food Bank and collected whatever was on offer that day. One could not fail but be impressed at the extent of support given and how professional an operation it is.
The Midhurst Food Bank is affiliated to the Trussell Trust which nationwide supports a network of food banks which last year supplied 1.3m emergency food supplies. 14m people are classed as living in poverty of whom 4.5m are children - poverty is defined as having an income of less than £16K. 15% of Midhurst population is within this category. Food is donated by individuals and by bodies such as schools, churches, health centres etc and they issue vouchers to recipients with which three days emergency food supplies can be obtained from the Food Bank.
The Midhurst Food Bank operated with 50 volunteers who collect from baskets located at Budgens, Tesco, Boots etc. Increasingly there is a demand for toiletries and cleaning products as well as food. The Food Bank is opened every Friday pm or 24/7 by phone and they also deliver within the Midhurst rural community. In 2018 they helped 359 clients of which 150 were children. 541 lunch boxes were supplied to 150 children providing 2 weeks lunches during school holidays to those children who normally enjoy a free school lunch.
As Mike said a Food Bank only succeeds when it is no longer necessary. Hopefully a recipient's need is only temporary but currently demand is increasing. Illness, family breakdown, job loss particularly in rural areas with poor transport links, low income, benefit changes and Universal Credit - many crises can occur. It was good for us to be reminded that life for some in Midhurst is really difficult and a challenge and I think that everyone at the end of our meeting recognised that this impressive Charity is one that we were certainly right to have supported.
Andrew Gibson
Mon 14 January 2019 at The Grange
Rotarian Ian Goodall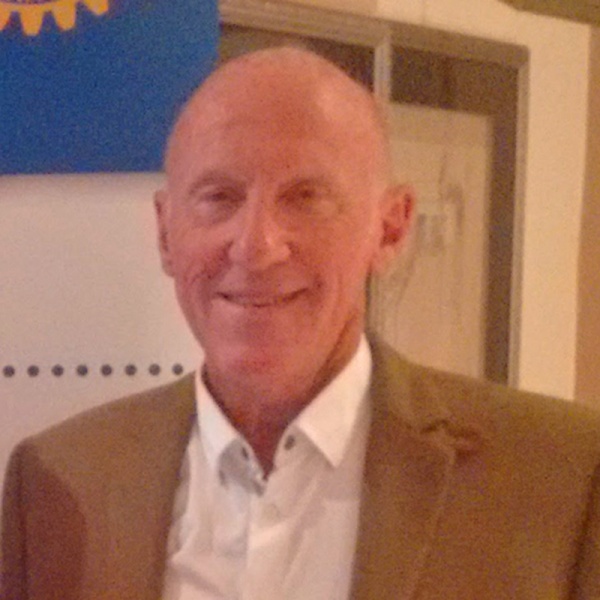 Where are you going to my little maid - so began a very interesting talk by Ian Goodall - lots of info about 'Vaccinations' - smallpox, polio, measles, rabies etc.etc. This lead on to much discussion among members.
Mon 17 December 2018 at Cowdray Golf Club

The Butler's Christmas by Dr Bob France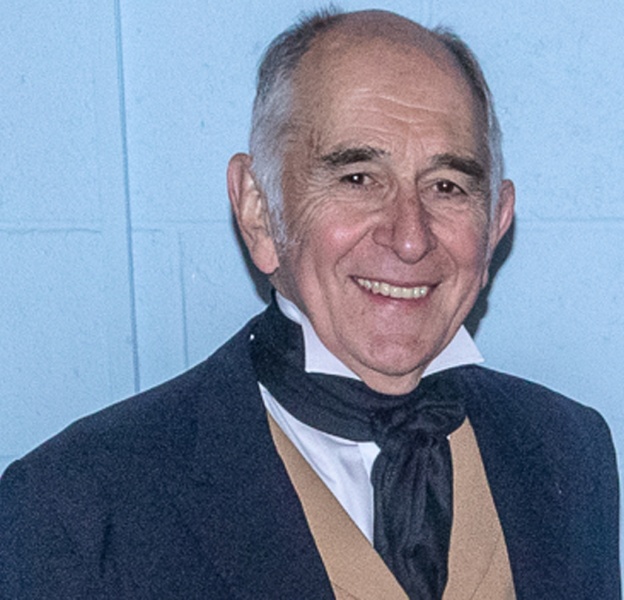 Members of Inner Wheel and Rotary enjoyed an excellent presentation by Dr Bob. Dressed in period costume, he took on the persona of an ancient butler, John Dine of Petworth House, to explain how dramatically Christmas changed from his Georgian youth to late Victorian times.
Saturnalian rites and orgies had given way to gross feasting by the time of Henry V111 when he enjoyed 12 days of Christmas but although early Christians had in 350AD selected the 25th Dec for their Christmas, the Puritans under Cromwell had banned all but formal religious acknowledgement and Parliament even sat on Christmas Day. So while the Georgian period reflected once again early pagan and roman traditions of feasting and drinking, it remained primarily a mid-winter feasting period for adults of the aristocracy and a working time for most of the population labouring in agriculture, shops and trades right up to Victorian Times.
Under Queen Victoria the "modern" Christmas and Boxing Day began to evolve with European influences from the Royal family and popular fiction, especially Charles Dickens, creating the more child centred Christmas of gifting, decoration and Christmas trees, blended of course with a mid-winter feast. St Nicholas and the USA's Santa Claus in his Coca Cola red quickly followed and with greater industrialisation Christmas developed into the holiday event which children in particular enjoy today.
An excellent presentation by Dr Bob, full of new facts and details of Christmas and its development, it was widely applauded as the perfect introduction to Festive Period
Dr Bob had explained that all proceeds from his presentations went to The Samaritans and we commended him for his efforts which members were encouraged to support.
Chris Wigley


Mon 3 December 2018 at Cowdray Golf Club - GLOBAL SIGHT SOLUTIONS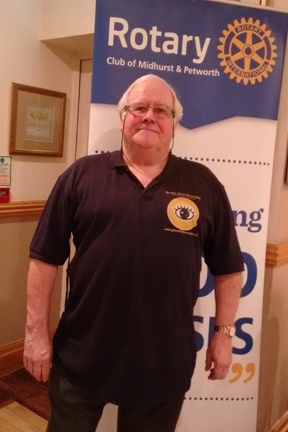 John Miles of Leatherhead Rotary Club gave us an inspiring talk about this charity which was formerly known as the Guildford Rotary Eye Project, founded by an eye surgeon and Rotarian from the Guildford club. The object of the Charity is to restore sight to the millions of people throughout the world who are too poor to get help for their blindness. The work is achieved entirely through the efforts of Rotary Clubs here in Britain and then in the countries where the need is so great.
John gave us a horrifying set of statistics about the size of the problem and its causes. There are bout 50 million people worldwide who are preventably blind of whom about 18 million are in India. At the moment, the charity works mainly in India, but hopes to spread its good work to Africa and also the far East. The reasons for all this eye disease boil down to: poverty, poor diet, lack of education, poor water quality and sanitation, and genetic causes.
Building and staffing hospitals in the areas of most need are the means by which more than 100,000 operations are performed each year. The number is still increasing as more hospitals are opened every year. Rotarians in India provide the land, buildings and the staff, the charity in this country provides funds for equipment (usually about $100,000) and some operations, to help with the start-up of a new hospital. Amazingly 50 new hospitals are planned in the next few years. By treating paying patients, the Hospitals manage to become self sufficient within about 5 years while still managing to treat the poorest patients free. The hospitals are fully equipped 'Eye Hospitals' offering a full range of ophthalmic services, such as treatment for glaucoma and detached retinas, they also offer 24 hour care. All this from Rotary Clubs in India and Britain!
Cataract is the main eye problem treated and surgery costs about £15. A donation of £5 with Global Grants from RIBI, can enhance the donation to cover the cost of an operation and restore sight to a blind person.
This Charity seems to demonstrate so much which is good in Rotary: fund raising at a local and District level in Britain, the power of global grants, co-operation between clubs on different continents, and most important the ability of clubs in India and elsewhere to build and run 'eye hospitals'. All this effort ends with the restoration of sight to a person who may have been blind since birth.
After the meeting John was selling Teddy Bears in aid of the Charity and seemed to be doing good trade! The Club expressed its thanks to John for taking time from his very busy schedule to give us such a interesting and 'eye opening' talk.
~Report by Peter Davis


Mon 19 November 2018 at Cowdray Park Golf Club


DG David Easton, and hs wife Caroloine who is an Assistant Governor, joined us for a meal and an update on District 1145.David emphasised the reasons for meeting 'change' head on while embrasing all the current ideas.





1st October 2018 at Cowdray Park Golf Club

MIdhurst Community Land Trust – Adrian Moore
Our own Adrian Moore spoke about the Midhurst Community Land Trust which was set up in 2017 as a not-for-profit social enterprise for the benefit of Midhurst and the surrounding villages. The aim of the organisation is to make available a long-term stock of affordable housing for local people to rent or buy.
Adrian explained that the need for such an organisation was based on the average cost of a first- purchaser's property was now approaching £300,000 and with an average annual wage being £27,000 this meant that house ownership was beyond the scope of many young families within the area. In the case of social housing there was a list of 72 families wishing to rent (and others not being listed). In Midhurst alone over 200 houses had been "lost" as a result of government policies allowing tenants to purchase their own properties. Added to this the rate of new builds was not keeping up with the increasing population needs.
Having formed its own company the organisation was hoping to convert to a charitable status in order to optimise the many grant opportunities that existed. Encouragement and support was forthcoming from both CDC and the South Downs NPA but identifying low cost parcels of land was challenging. Two areas had been identified one on agricultural land and the other being a problematical sized plot. However Adrian was hopeful that progress would be forthcoming. Above all there was a need to maintain a level of credibility with the general public as this would be needed when planning permission might be sought.
For the moment establishment of rental housing was preferred over outright purchase. The group were now drawing up eligibility rules which was to favour persons with local connections. Designing such criteria that was fair, logical and not verbose was challenging but Adrian recognised that it was on such outputs that the group would be judged.
A short video was shown. This can be found on www.communitylandtrusts.org.uk/what-is-a-clt/clt-tv
Questions on Adrian's presentation were probing but everyone agreed that formation of such an organisation was a worthwhile cause on which progress would be keenly watched. There was a desire to request an update sometime in the future.
Robert Morrison


17th September 2018 at Cowdray Park Golf Club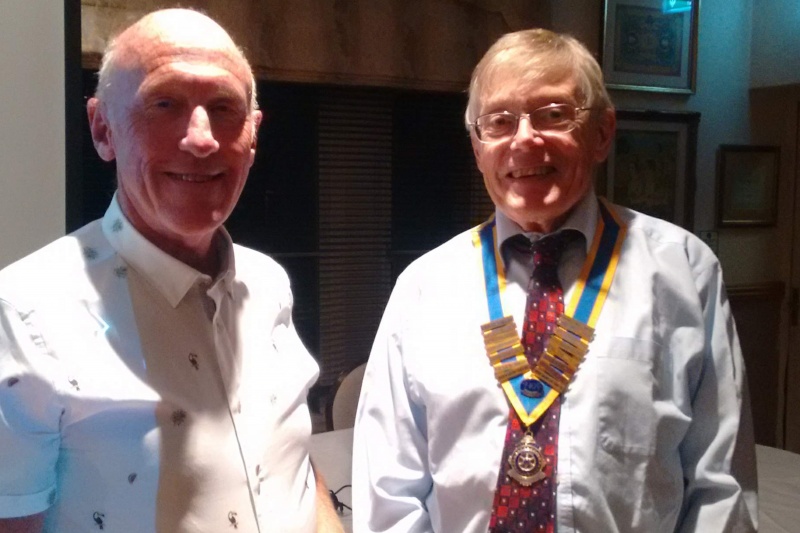 President Richard Hill inroduced Roratian Ian Goodall who told us about his working life. After trying various avenues Ian moved into the teaching profession, ending up as Head of a large seconday school.

3rd September 2018 at COWDRAY PARK GOLF CLUB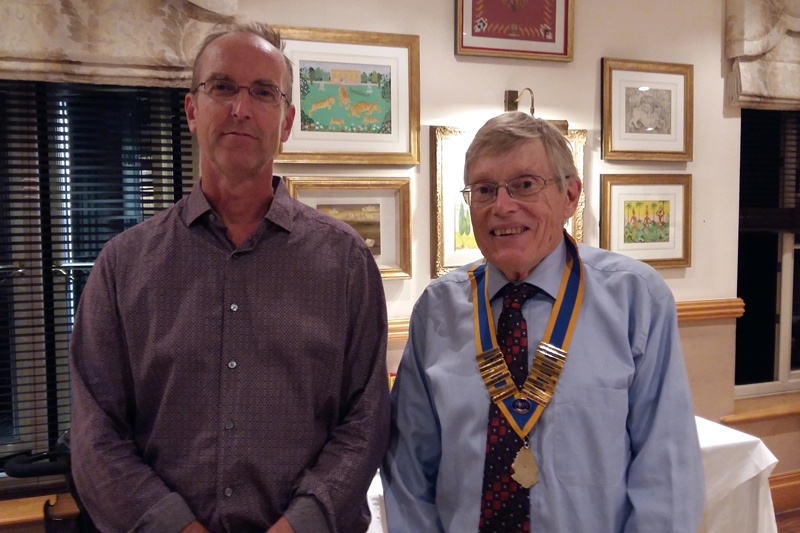 Speaker - Johnny Culley - Head of Easebourne Primarty School

On 3rd September, Johnny Culley, head of Easebourne Primary School, gave us his thoughts on the causes and possible answer to stress in the children in the upper years of primary schooling. The stress problems arise from many causes, but modern communications and the use that is made of them by this age group are a major contributor. The mere fact of excess screen-time seems to be bad even if the time is spent on seemingly innocent activities. The bright colours, speed of movement of images, speed of cutting from one image to another and a whole host of other factors seem to have a direct negative effect on the wellbeing of children. The problem is made far worse by the nature of the images to which the children are exposed, particularly sex, violence (for example in games like FORTNITE) and unrealistic body image expectations (e.g. in Love Island). Add in the peer pressure of social media and the fact that content intended for children over 12 is routinely accessed by children in the 8-11 age range and the nature of the problem becomes apparent.
Johnny hopes to bring some calm into the lives of both the children and their teachers by introducing mindfulness training into school via the 'paws b' programme (see https://mindfulnessinschools.org/what-is-b/paws-b-curriculum/). The programme draws on meditation techniques (without the religious associations of true meditation) to promote wellbeing and resilience in children, and to give them skills to help them resist the depressive effects of constantly feeling inadequate when compared to the unreal expectations they are presented with in the electronic world. He has found a local teacher who can come in to lead the programme, and now just needs the money and the space in the timetable to go ahead! He is hopeful of running a trail in the Spring Term of 2019.
A large number of questions followed indicating significant engagement with the assembled audience of Club members and guests. He was wished well in the project by the President, who suggested a further report in a few years' time would be most interesting
Nigel Goodenough
6th AUGUST 2018 AT COWDRAY PARK GOLF CLUB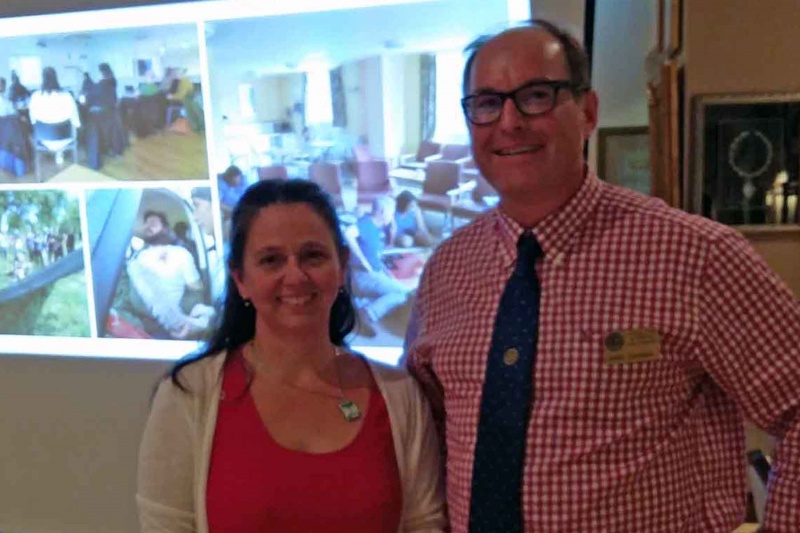 Speaker: Tess Williams - Humanitarian Consultant and Security Trainer
Tess is now a self-employed consultant based in Godalming. She provided a thought provoking and informative half hour illustrated talk. Tess took us through her 20 year career working for and with various NGOs and charities drawing out some highlights and lowlights including, amongst many others, a frightening trip to Gaza and some very challenging work in Haiti.
She now does a lot of work in security training for various organisations including businesses preparing staff for travel to conflict and disaster areas.
After her talk Tess adeptly dealt with half a dozen questions including expertly navigating the subject of some of the recent scandals and controversies in the sector.
The members then warmly thanked Tess for her presentation.
Julian Goodale

SARAH'S CHALLENGE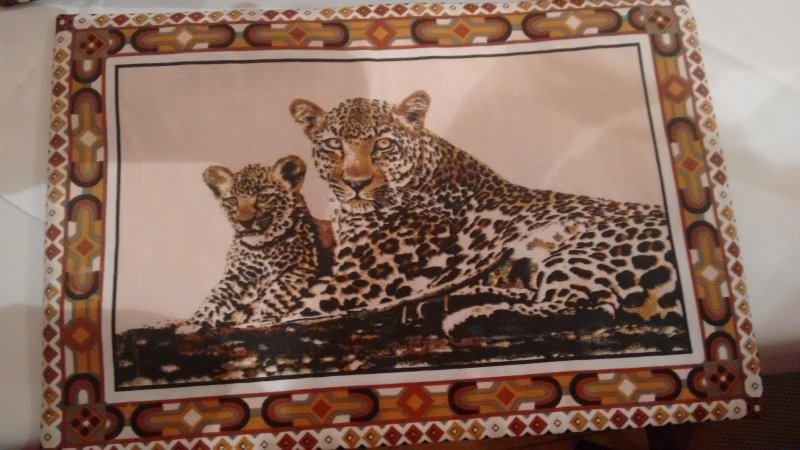 30TH JULY 2018 AT COWDRAY PARK GOLF CLUB
Sarah, daughter of IPP Hazel Morley, began by telling us that she was in a difficult place at the beginning of the year following illness and other problems. She was looking for a 'new challenge'. So she got on a plane and went to South Africa, Scottburgh, a quiet seaside resort in Natal. Having exhausted the normal holiday adventures, such as swimming with sharks, she made contact with a local Pastor. He introduced her to the local Sewing project and Creche.
She learnt how the very deprived women learnt sewing so that they could obtain a small income from selling their goods. At the end of the course they are given a sewing machine. Incidentally, Sarah helped them, by using her business skills, to improve the amount they raise from selling their beautiful products.
She also learnt about the creche and its importance in looking after young children from babies to school age (although many do not get to school). She was shocked to find that some of the mothers were of school age themselves. She also told us the very sad statistic that in some of the remote townships she visited only about half of the children will survive to become teenagers.
Sarah wanted to help so she decided to raise some money at home and build a creche for a small township where there was a great need. She adopted the hands on approach and purchased the bricks herself after a lot of bargaining. She then found that she had to carry them herself the last few hundred yards to the site. Nothing seems too much of an obstacle for her! She then showed pictures of the creche half built; and she has now heard that the building is complete and that the creche will open very soon. What an achievement!
Not content to leave things there, Sarah decided to look for a bigger project. She met the leader of the local 'Rape Crisis Centre' which is based in the local Hospital; and was shocked by the horrors that she learnt about, the victims seem to be of a very young age. She also learnt that they need to raise money for a play area for these very distressed young girls. So Sarah immediately identified this as her next challenge. She has found that the money required is about £5000, far less than it would be in England. This is where she ended, but is obviously not the end of the story.
One of the questions asked highlighted the fact that this is just the sort of project which Rotary should be able to help with. Sarah has already made contact with Scottburgh Rotary Club, so there is the potential for a joint project. I am sure that the feeling of all Rotarians present was that we should support Sarah as much as possible.
Sarah was enthusiastically thanked for an inspiring and thought-provoking talk.
Report by Peter Davis
PETER NIGHTINGALE - MIDHURST PAST/PRESENT

23TH JULY 2018 AT THE GRANGE
Peter
showed us some wonderful old photos taken in Midhurst in the past..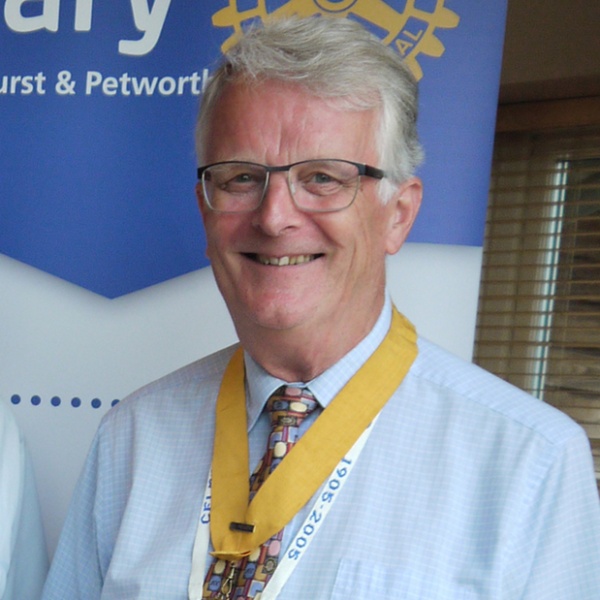 Rotarians were asked to identify the places taken with dates - not very good until we saw a current picture!
Peter had put a lot of work in to this, his second of this type.