Taste of Burns Night
Fri 1st February 2019 at 18.30 - 22.30
An evening to celebrate the works of our Bard, Robert Burns, will be held H&R: Hugh Graham & Michele Gray VoT: Pres. Andrew Steven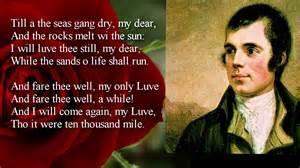 Tonight over eighty Rotarians and their guests celebrated "A Taste of Burns" in the Bentley Hotel.
The Haggis was piped in by Hayden McAvoy, the Club's RYLA candidate in 2018 and the Address to the Haggis was given by Past President Des Donnelly. Prior to a superb meal Past President, and Club Secretary, John McGeary gave the Selkirk Grace.
The Immortal Memory, or Liberté, Egalite, Fraternité, was given by Emmanuel Cocher, the Consul General of France and Director of the French Institute here in Scotland.
Commodore Eric Thompson, dressed in his Rangers gear, gave us "Ally (McCoist) Shanter" a wonderful take on Burns' Tam o' Shanter.
Our final speaker was Iain Lawson, who before retiring was, among other things, the Estonian Honorary Consul. Ian regaled the audience with his tales and adventures in Estonia which started when he ventured there, a number of years ago, as a member of Scottish Football's Tartan Army.
The musical entertainment was provided by the very talented Shonagh Murray.
The evening was brought to an end by President Andrew Steven, who proposed the Toast to the Guests followed by a comprehensive vote of thanks.
Taste of Burns Night
To be held in:
Bentley Hotel, Motherwell
6.30pm for 7.00pm
Guest Speakers
Mr Emmanuel Cocher,
French Consul General to Scotland
Mr Iain Lawson,
Honorary Consul for the Republic of Estonia
plus the music and songs of Burns
Ticket price: £30.00
Contact: andrewmurrayville@hotmail.com