BREATHE
Fri 28th September 2018 at 19.00 - 21.30
Manningtree Rotary in Association with The Manifest Theatre present a charity film presentation of the movie "BREATHE"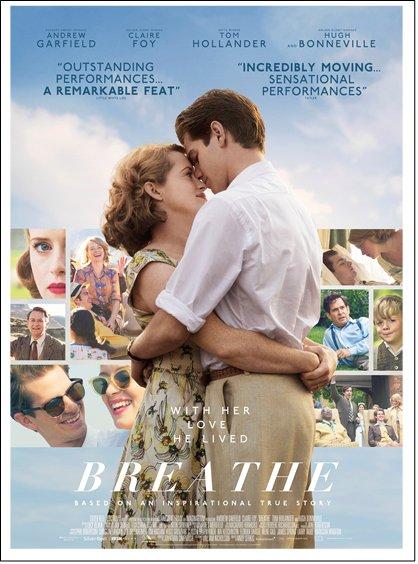 Manningtree Rotary

in association with

The Manifest Theatre

are presenting a charity film presentation of the Movie "BREATHE"
Friday 28th September 2018 Doors open 7.00pm
at the Manifest Theatre, 2 Oxford Road,
Manningtree CO11 1BP
Tickets £5.00 plus £2.00 Manifest Theatre Membership
Tickets only available in advance from Rotary Manningtree. Telephone 07746 858326
Or email rotarymanningtree@gmail.com
The Movie "BREATHE" is an inspirational and highly emotional celebration of bravery and human possibility, a love story about living every breath as though its your last. Adventurous and charismatic, Robin Cavendish (Andrew Garfield) has his whole life ahead of him when he is paralysed by polio whilst in Africa in 1958.
Contrary to all advice , Robins wife Diana ( Claire Foy) brings him home from hospital where her devotion and witty determination transcends his disability. Together they refuse to be imprisioned by his suffering; dazzling others with their humour, courage and lust for life. Against all odds, Robin's illness gave him new purpose - fighting tirelessly for the rights of disabled people - and his pioneering work had a huge impact on mobility and access for the disabled. The film company have waived their performance fees and the Manifest Theatre are providing their facilities also free of charge to allow all proceeds of this charity event to go to the Rotary Foundation "End Polio Now" project. go to https://www.youtube.com/watch?v=JycCFypvgml. Or got to You Tube and search "The Movie Breathe"
The folks in Manningtree Rotary are known for their activities and events in our local community but Rotary's work around the world is not so well known. The eradication of Polio worldwide has been one of Rotary International's goal's for many years. With other partners such as the World Health Organisation and the Bill and Melinda Gates Foudation, the number of children succumbing to this terrible disease worldwide has dropped from 300,00 each year in the 1980's to just 15 this year.
Today we are lucky that Polio is no longer the big fear it was in the 1950's when the dreaded disease affected many families in Great Britain and across Europe.
Tickets are only available from Manningtre Rotary.
Telephone 07746 858326 or email rotarymanningtree@gmsil.com