Spike Milligan - His Part In My Life
Thu 29th November 2018 at 19.00 - 22.30
A partners speaker evening at the Fowey Valley Hotel with a 3 course meal and coffee (£18). Featuring Ed Welch, a renowned composer and Musical Director for Spike Milligan.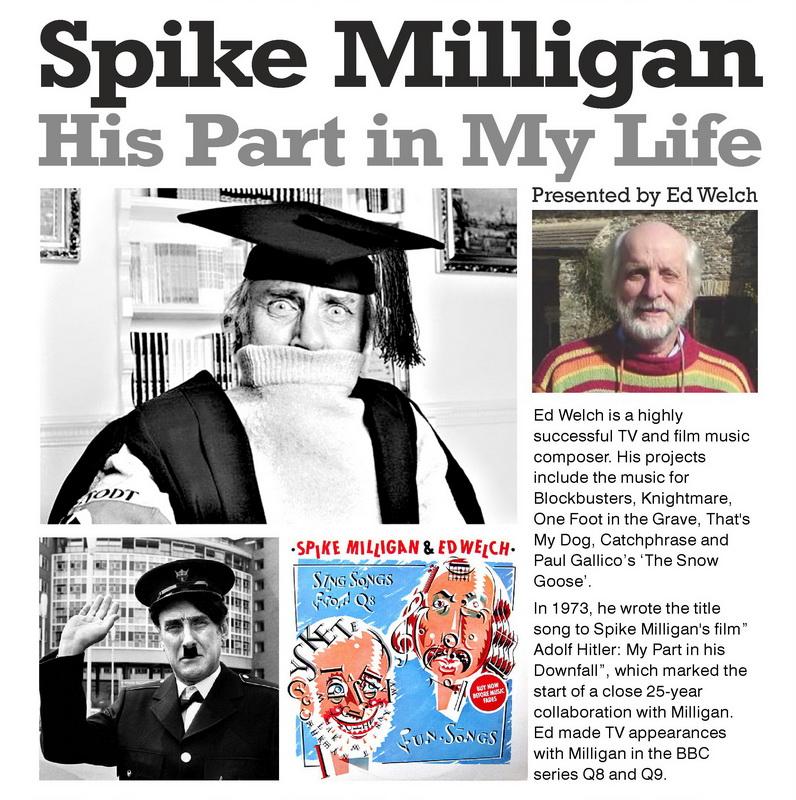 Music has shaped Ed's life. He was born in Oxford, where his parents ran a Dr Barnado's children's home. Ed's father played in dance bands and was a church organist, and was keen that his son should follow in his musical dance steps.
"I was put to the piano at the age of four, and I had some ability so I was encouraged. I was never going to be a concert pianist but I could hold a tune and had a tolerable singing voice, so I sang in the big local church choir and then went to Christchurch Cathedral School where I sang every day and three times on Sundays!"
Ed went on to Ardingly College where he played cello and wrote hymns, then studied composing at Trinity College in London. On the side he was paid £10 to do classical arrangements for demo tapes – "like on Eleanor Rigby – very fashionable at the time."
His first record as an arranger was released while Ed was at college – against college rules, so it came out under the assumed name Edgar Willis. Once he left, his contacts led him to United Artists, producers of big musical scores such as James Bond and Chitty Chitty Bang Bang. Their head of publishing, Roger Welch, no relation of Ed's but the brother of Vera Lynn, took him on despite being concerned that he was too proficient at reading music.
Ed worked as a plugger, hawking United Artists' recordings around well known DJs. He went on to do arrangements, write B-sides and record his own records. He had a long friendship with Spike Milligan after writing for his film Adolf Hitler, His Part In My Downfall. Ed appeared on TV alongside Spike Milligan, performing his own songs including the Carpet Is Always Greener Under Someone Else's Bed and Love To Make Music By, and songs co-written with Milligan, including Silly Old Baboon. They released an album in 1979.
Ed worked on lots of British films. His last film score was The 39 Steps, starring Robert Powell, but then Ed was told about an idea for a new game show called Blockbusters –the first programme on television every night of the working week.
"I wrote the theme tune – and it changed my life," Ed said. "My royalty earnings shot up, and I became the composer for TV quizzes. I did Catchphrase, $64,000 Question, All Clued Up and more. Lots were filmed at TVS where Greg Dyke was boss. He wanted to smarten up the regional news programme for the South, Coast To Coast, and I wrote the music for that. It brought in other news programmes including Spotlight and TSW in the South West."