AWARDS the Club gives
Paul Harris Fellowships and the Roger Asbury Award
The club makes two main awards
Paul Harris Fellows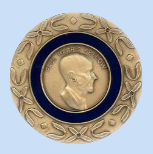 The Rotary Foundation, created in 1917, is a not-for-profit corporation that supports the efforts of Rotary International to achieve world understanding and peace through international humanitarian, educational, and cultural exchange programs. It is supported solely by voluntary contributions from Rotarians and friends of the Foundation who share its vision of a better world.
In many countries Paul Harris Fellows are individuals who have contributed more than $1000 to the Annual Program Fund, the Polio Plus Fund or the Humanitarian Grants Program of the Rotary Foundation are recognised as Paul Harris Fellows. In this country individual Rotary clubs award Paul Harris Fellowships to individuals in recognition for service to the community or to the Club. This is the pin PHFs wear.
Click this link to see the list of our Paul Harris Fellows.
Nb. Paul Harris visited Cambridge in 1933, as recorded in this link.
Roger Asbury Awards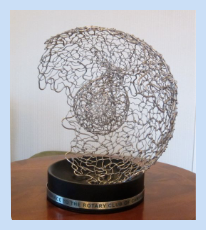 The Roger Asbury Award for outstanding service to the Rotary Club of Cambridge was established by our Club as a recognition of individuals who have significantly contributed to the work of the Club over an extended period.
The Sculpture is a portrait of potential energy and hopefully reflects the efforts of a person who has inspired others with acts of kindness. The Roger Asbury Award shall be awarded to others who may deserve the honour of being recalled as a selfless and wholly generous person.
Click this link to see the of RogerAsbury Awardees.