President's Weekend
Thu 13th June 2019 at 11.00 - 12.00
President Richard looks forward to fellowship and an interesting time with Club Members in Ross-on-Wye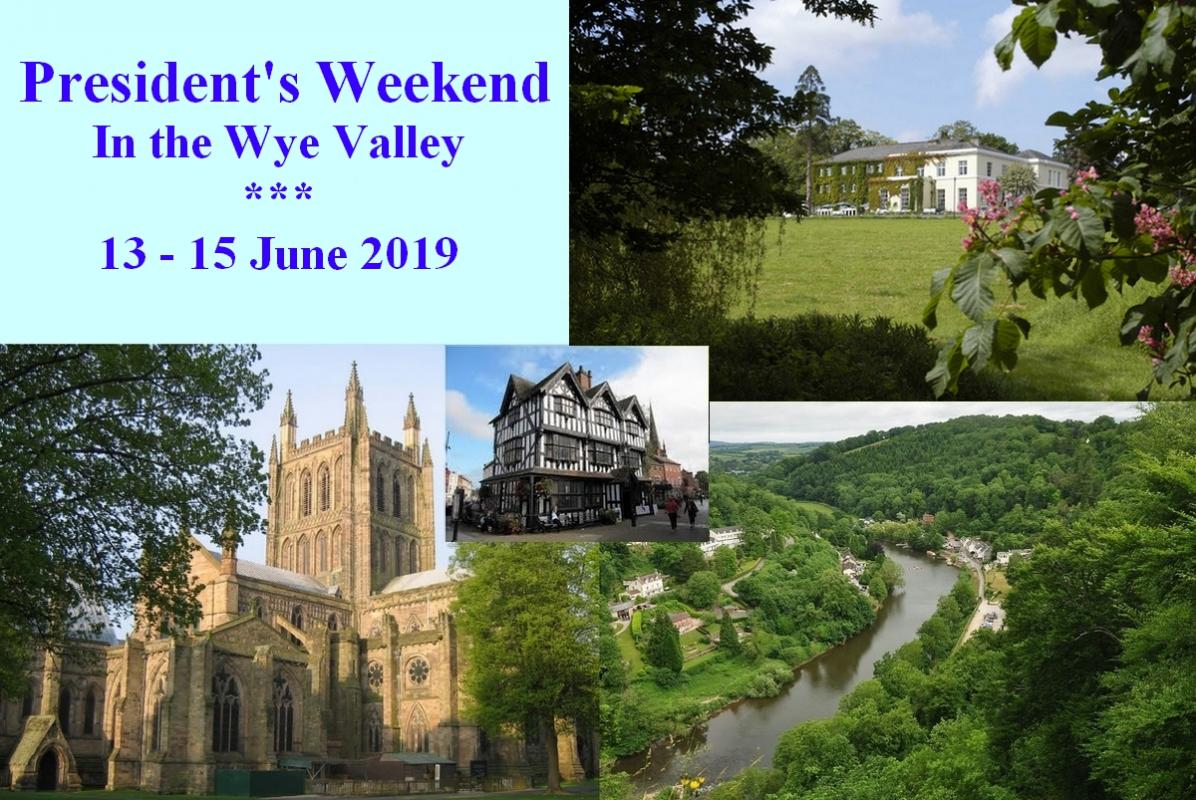 President's Weekend 2019
Thursday 13th - Saturday 15th June 2019
President Richard looks forward to Rotary fellowship with Club members in the Wye Valley, based at the The Chase Hotel, Ross-on-Wye
Programme
Thursday
Lunch at the "Ye Old Ferrie Inn" on the banks of the River Wye in Symonds Yat
Boat trip on River Wye
Visit to Symonds Yat Rock - amazing views, with optional view of peregrines (their choice)
Evening Dinner at The ChaseHotel
Friday
Tour of Hereford Cathedral including Mappa Mundi
Lunch
Afternoon visit to the Hereford Cider Museum
Evening Dinner at The Chase Hotel
Saturday
A choice of optional visits
"A BRILLIANT WEEKEND"
A brilliant President's weekend....President Richard and 24 members and partners headed for Ross-on-Wye, intent on enjoying themselves despite the weather. We congregated at Ye Olde Ferrie Inn at Symonds Yat West for lunch together in the pub overlooking the River Wye. Then a visit to Clearwell Caves in the Forest of Dean. Coal, iron ore and ochre are still mined in small quantities in the Forest of Dean today, by the Forest Freeminers whose birthright entitles them to continue mining. We stayed at Chase Hotel at Ross-on-Wye, a lovely old traditional hotel. A fine dinner and plenty of wine kept us all busy till bedtime.
On Saturday morning, after breakfast, we all met in Hereford for a guided tour of the 11thC Cathedral and the Mappa Mundi exhibition. Hereford Cathedral is full of fascinating stories and things of interest and our guide, Ruth, brought much of it alive for us. The cathedral also houses the Hereford Mappa Mundi, which is unique in Britain's heritage. It records how 13th C scholars interpreted the world in spiritual and geographical terms. We also saw the Chained Library which is the only library of this type to survive with all of the chains, rods and locks still,intact.
On Friday morning, the group met up in Ledbury for a guided tour of the town. An old Market Town with many wooden framed buildings dating from around the 1600's. Our guide was excellent and she did a good job of shepherding this bunch of "unruly Rotarians" around the narrow streets and alleyways whilst leaving room for the locals to pass by Lunch was calling us on to our next destination – Weston's Cider Mill at Much Marcle. It's a surprisingly large enterprise and Weston's is apparently the third largest cider producer in the country. After a very tasty ploughman's lunch in the restaurant we had a guided tour with a very knowledgeable young man called Zac. He told us the history of Weston's, started in 1880 by Henry Weston, who was a local farmer. The cider is matured in wooden vats which have been named after the family, names like Rosie, Dora and Jessie for the girls and football teams for the boys! The largest of these vats hold 42,000 litres. The company is still run by 5th generations of Westons. After a very lively cider tasting, we departed to explore the area further and meet up at the hotel later for dinner.