PURPLE4ROTARY
Sun 17th March 2019 at 16.00 - 18.00
Afternoon Tea at the Mercure to raise funds for the Rotary End Polio campaign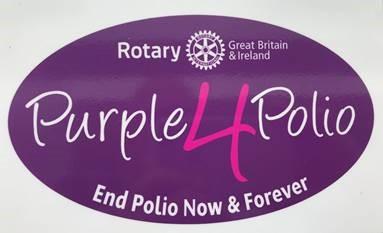 "TIME FOR TEA" - Purple4Polio
Invitation to an Afternoon Tea Party
Where: Mercure "Daventry Court Hotel",
Sedgemoor Way, Daventry NN11 0SG
When: 3.30 pm to 6.00 pm, Sunday 17th March 2019
Why: The Rotary Club of "Danetre" Daventry raising the
profile and funding for Polio Eradication.
President Paul, and the Members of the Rotary Club of "Danetre" invite you, your partner, your children and grandchildren to attend the above event.
Share with us a Traditional 'Afternoon Tea'.
Purple4Polio "Afternoon Tea" Cost – (a Donation of at least £5.00
per Adult; Children only £2.50)
.... [N.B. a Donation of £5.00 will pay for the Polio Immunisation of Twelve (12) Children]
All Funds raised will be used for the advance of the Purple4Polio campaign.
Your Purple4Polio "Afternoon Tea" Party will also include:
Music, Name the "Rotary Bear" Competition, a Tombola and other Attractions.
We hope you can join us!
For some facts about Polio click here
Who is behind Polio Eradication? click here to find out