Jan 2019 Burns Night Dinner @ the Arundel House Hotel
Mon 28th January 2019 at 18.30 - 22.00
Chieftain - David Adamson. Bookings to - Amber. Guest Night - Open to all Friends, Partners and Guests.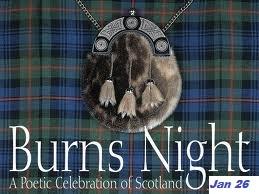 GUEST NIGHT
Time 6.30 for 7.00pm.
Tonight we celebrate the life and works of Rabbie Burns.
A tasty meal including optional Haggis & Neaps .
Display your tartan and indulge in a little whisky !
There will be music, readings and poems to enjoy.