Youth Committee
Working for the young people of our town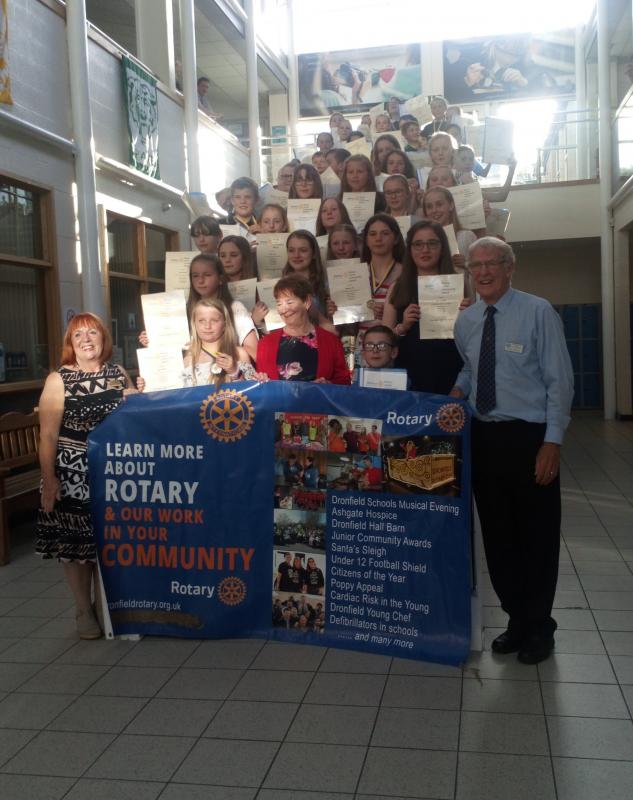 The Youth Committee started in 2016 as a spur of the Community Committee.
The remit of the Youth Committee is to focus on the young people of Dronfield and S18.
This committee has been involved with Rotary Youth Leadership Awards. These are programmes based on challenging residential experiences for secondary school pupils.
The primary school pupils have aan oppurtunity to undertake in the Rotary Junior Community Awards Scheme. Currently 60 pupils in a variety of schools are developing their self responsibility and self developement skills.
The whole membership of the Rotary Club of Dronfield supporst and promotes the bi-annual schools music evening. This is held at the Chesterfield Winding Wheel Theatre. Around 250 pupils and students of Dronfield Schools showcase their talents and skills in music to a large audience of parents and their peers.
2019 will be the 5th such concert.
Rotary Junior Community Awards Sceme 2018-2019
On 27 June 2019 at Dronfield Henry Fanshawe School the annual Awards Event involving 50 primary school age children,a number of staff and Rotarians was held. The Town Mayor Lilian Deighton presented certificates to the children to mark successful completion of all the elements of the scheme.
This Award programme is now firmly established in Dronfield and is valued by the participating schools. It's primary aim is to create a healthy attitude towards physical recreation, develop personal skills and by understanding the community they live in help to lower the incidences of bullying discrimination and racism.
In short to develop the whole child to prepare them for their future.
Rotarian Pauline Holmes was delighted with the positive response to the whole event and in particular with the efforts participating pupils had put to achieve success. They had to develop their personal skills in thinking, reading and writing.