YOUNG CHEF COMPETITION: DISTRICT FINAL 28 FEBRUARY
Thu 28th February 2019 at 13.00 - 16.00
District Final: Congleton High school
District Final 28

th

February 2019
Congleton High School.
REPORT
…
from District 1285 Young Chef Co-ordinator Rtn Roger T Shepherd
PHF.
"Girl-Power" swept the awards at our District Young Chef Final 2019.
RC Congleton not only hosted a splendid Competition, but they also took
took First Place.
Daisy McAllister calmly edged herself into winning, following her 1st Place in
Qualifying Heat One, last November. A great achievement !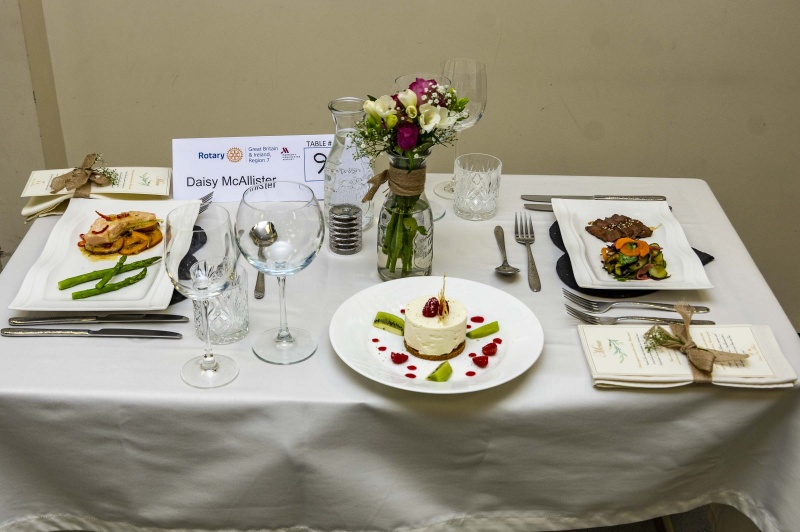 RC Frodsham, and Helsby student Paula McCallum, took 2nd place, after her
School had taken a "time-out" last year. Some comeback!
RC Ramsbottom had 3 Woodhey High contestants entered, showing strengh
in numbers, after an amazing initial School entry of 100 plus would-be
Young Chefs. So Amelia Tweddle in 3rd place, was indeed …hard-earned!
Judges again experienced an extremely close Competition, requiring full use
of the extensive marking sheet,to finaly separate them.
These three girls now progress into the Rotary Regional Final on Saturday
16th March at Kendal College. "Our Districts1285 Girl-Power Team!"
With a very good chance of snatching the 1st place (only) entry into the
National Final at Leeds City Centre College. on 27th April 2019.
But credit is due to all our District Final Team, who put on a superb
Competition, for all to watch, and later taste, their quality cooking.
Youngest Finalist was 12yr old Niamb OKelly from Hope Academy,
Spencer Collins from Woodhey High, and Mollie-mae Hodson also 13 ,(who was
ill, and sadly missed the event), but still deserved her trophy. Will King, Helsy High,
and Harrison Humby, Woodhey, also fought the boys corner admirably, and
Zainab Azam, RC Radcliffe and Derby High,was an impressive first-year finalist.
Rtn Roger T Shepherd PHF..Rotary Dist 1285 Young Chef Co-ordinator
The Rotary Club of Newton-le-Willows congratulate Niamb on her performance at this years competition. The standard was very high and we hope that she, and the school will compete again next year.
Well done to all our students who competed.