INTERNATIONAL SUNDAY LUNCH - In aid of providing clean water in Africa
Sun 24th March 2019 at 12.30 - 15.30
Guest Speaker Rtn James Onions, R.C. of Kew Gardens and Past D.G. of District 1145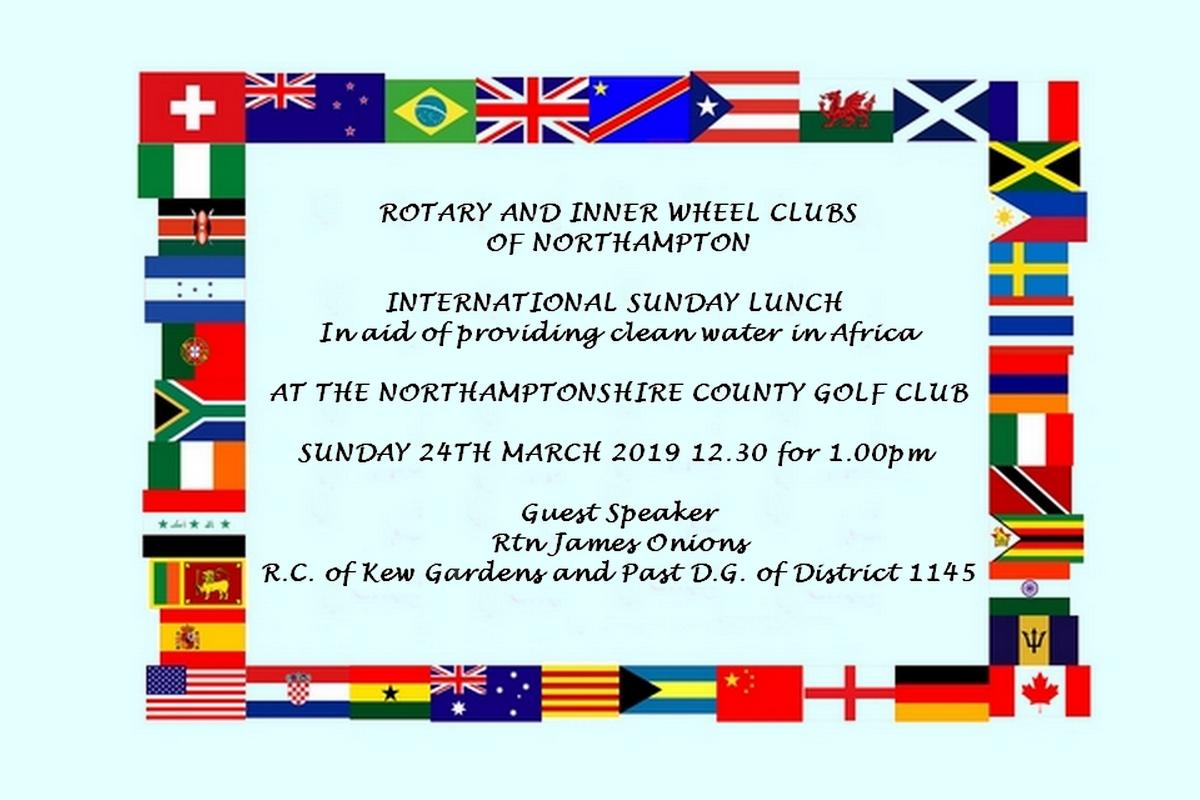 ROTARY AND INNER WHEEL CLUBS OF NORTHAMPTON
INTERNATIONAL SUNDAY LUNCH
In aid of providing clean water in Africa
AT THE NORTHAMPTONSHIRE COUNTY GOLF CLUB
SUNDAY 24TH MARCH 2019 12.30 for 1.00pm
The Guest Speaker is Rtn James Onions, R.C. of Kew Gardens and Past D.G. of District 1145
He will speak about the Sand Dams project that has involved over 20 Rotary Districts and 200 clubs that have provided 60 dams to date providing sustainable clean water for drinking and irrigation
In the Kenyan drylands over 100,000 Kamba and Masai people have been given access to safe water for life for less than £10 p.p. Rotary has now built its first dam in Mozambique and is now looking at projects in Tanzania, having recently completed a scheme providing clean water for 6,000 people in India.
This is a District 1070 approved project seeking the help of a number of clubs to pool resources to finance another dam that will bear the names of those contributing.
Menu Choices
(A)Roast Rib of Beef and Yorkshire Pudding or (B) Roast Chicken Breast or (C) Cod Mornay
All served with Roast Potatoes and Seasonal Vegetables
(D) Wild Mushroom and Asparagus Risotto, Parmesan Shavings and Garlic Bread
(E) Syrup Sponge and Custard or (F) Baked Vanilla Cheesecake with Forest Fruits or (G) Fruit Salad and Cream
Coffee and Mints
£25 per guest and Satellite Members : £13 Members (No meeting on Monday 25th)
The ticket price of £25 includes a £5 donation to the Sand Dams Fund.