Presentation of funds to Swindon Women's Aid
Fri 15th February 2019 at 18.30 - 19.00
£2,033 is presented to Swindon Women's Aid. Accepting the cheques are Nicky Allberry, a Trustee, and Olwen Kelly, a Director of SWA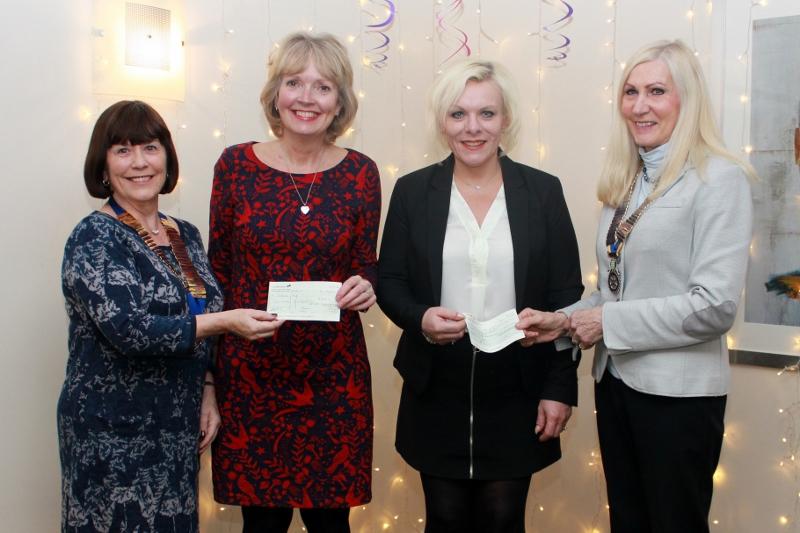 The Swindon Women's Aid Refuge Centre opened its doors on 15th February to welcome the President of the Inner Wheel Club of North Wiltshire, Daphne Helyer, and our Club President, Ann. Accompanying them were a few members from both clubs.
They had come to present the funds raised at a charity quiz organised jointly by the clubs back in November. The Quiz raised £1,546 but to their half Inner Wheel added a further £35 of donations they had received since. And to Rotary's half, £452 was added being 50% of the sum raised by member Terry Williams' from selling his living Christmas Trees in December.
In total cheques worth £2,033 were presented to Swindon Women's Aid.
Accepting the cheques for Swindon Women's Aid were Nicky Allberry, a Trustee, and Olwen Kelly, a Director of the charity.
Thanking both Clubs, Nicky described the donations as being absolutely fantastic and said the money will make a tremendous difference to the support they are providing to victims of domestic abuse.
Swindon Women's Aid is a domestic abuse service available on a 24/7 basis for people living in the Swindon area. They support both female and male victims of domestic violence and abuse who need help to exit abusive relationships safely. They also provide emergency refuge to women who need to flee their homes due to the violence and abuse. It's completely confidential and free of charge.
£2k donation as Swindon Women's Aid celebrates with alternative Valentine's Day event
Charity Quiz 23rd November 2018