Euroscola - Sophie Patterson 18.00 @ Westlands
Thu 11th April 2019 at 18.00 - 20.30
Euroscola Sophie Paterson (centre) with (left to right) President Nominee David Chisholm, Caroline Paterson, Ian Paterson and Colin Strachan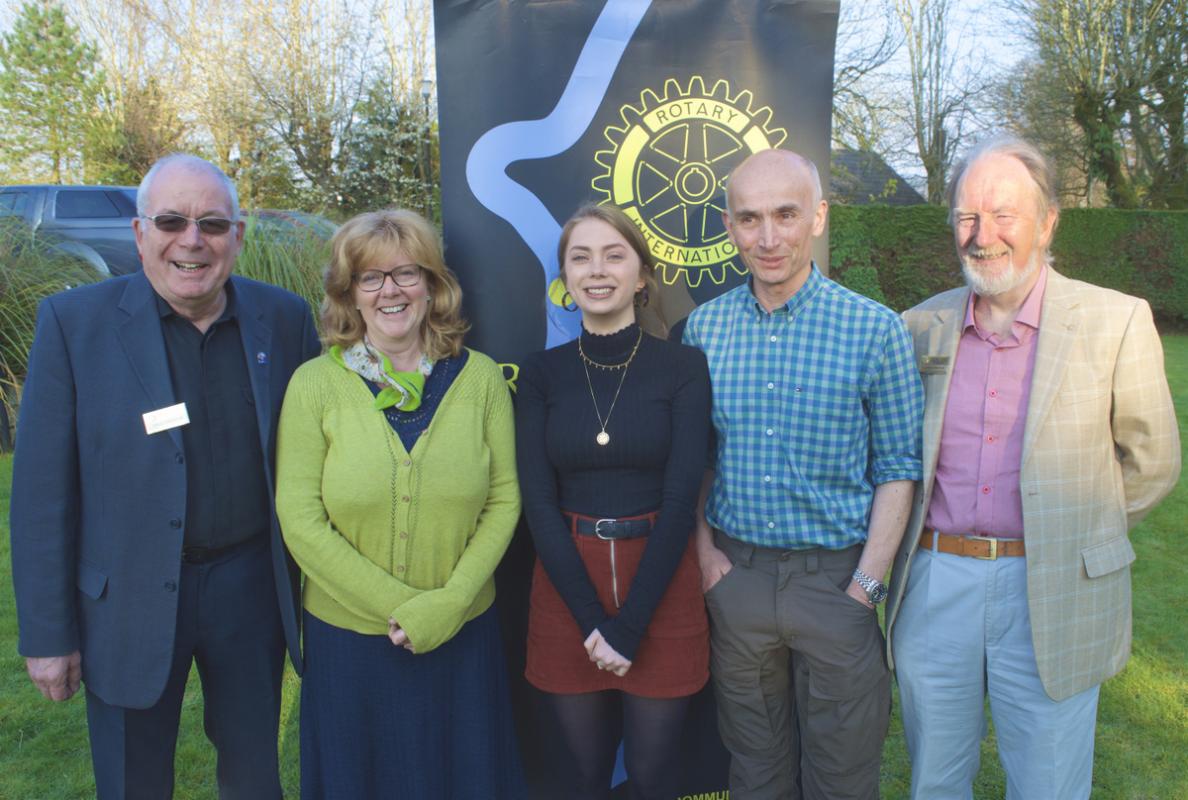 ROTARY EUROSCOLA REPORT
In the midst of the current confusion over Brexit, it was refreshing to hear from Sophie Paterson, a sixth-form student from Dunblane High School, about her experience as a Euroscola. In this programme, young people, selected by Rotary Clubs in Scotland and the UK, join some 600 young people from EU countries to visit the European Parliament in Strasbourg. There they have an opportunity to discuss and debate issues of current significance.
On arrival in Strasbourg, the group had an opportunity to do some sightseeing. The following day, there was visit to the Council of Europe, with then a trip over the bridge to Germany. After this, the group put their language skills to the test by interviewing members of the public in the Strasbourg streets. On the next day, the challenge for groups was to create a short film related to the City, a task that involved examining its development over the centuries, during which control had oscillated between France and Germany.
The highlight of the week was, however, undoubtedly the Euroscola Day spent in the European Parliament building. Each country had three minutes to introduce and promote its attractions. Sophie was chosen to co-host the Scottish presentation. The participants were then divided into multinational groups to prepare presentations on current issues. Then, following debates in the Chamber under Parliamentary procedures, a vote was taken on each of the issues discussed.
Sophie said that she found the experience of great benefit; she was extremely grateful to Rotary for this opportunity. It was, she suggested, very important to maintain links with other European countries.
Stuart Brown, Speaker's Host, gave the vote of thanks, congratulating Sophie on her linguistic skills, and for an excellent and entertaining account of her visit.