Visit to High Down Prison Clink Restaurant
Thu 11th April 2019 at 12.00 - 15.00
High Down Prison Sutton Surrey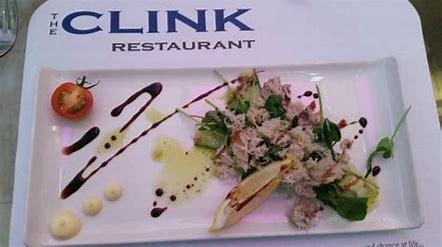 Visit to High Down Prison Clink Restaurant
To be confirmed
Organised by Tony Ward
This restaurant has a 5 star rating on trip advisor.
Sample Lunch Menu - Order on the day
LUNCH MENU
The prisoners serving in our restaurant and cooking in our kitchen are working towards gaining their accredited City & Guilds National Vocational Qualifications in Food & Beverage Service, Professional Cookery and Food Hygiene. Thank you for choosing to dine with us; by doing so you are giving our students the valuable experience they require.
Starters
Soup of the day V
Preparing and cooking basic soups and stocks is a key skill for any chef Unit 237 teaches ourprisoners in training how to do this and encourages them to think about flavours and textures. £5.95
Pan-seared pigeon breast, hazelnut and radicchio salad, £7.95
bitter chocolate sauce
The students will learn how to prepare and cook poultry under units 223 and 230 and also learn how to pair unusual but complimentary sauces under unit 236.
Potted brown shrimp, sourdough crisps, watercress and
lemon dressing
This is a traditional dish which teaches our students how to preserve ingredients as well as understand different flavour combinations and pairings. £7.95
Roast fig, fennel and comice pear salad, caramelised walnuts Ve
The learners will be taught how to correctly chop, dice and prepare the fruit and vegetables for this dish under unit 226. £6.95
Ox cheek raviolo, grilled treviso, smoked garlic and tomato dressing
When you order this dish, our students will learn butchery skills for preparing and cooking meat under units 222 and 229. £7.50
Main courses
Roast red-legged partridge, squash and chestnut puree, buttered winter greens, parmentier potatoes
Our students will be taught how to cook this seasonal dish where they'll focus on preparing and cooking poultry under units 223 and 230 as well as preparing the side dishes that accompany it under units 226 and 233. £15.95
Charred king oyster mushroom with truffle fondant potatoes, kale crisps and porcini sauce Ve
Vegan dishes have formed an important part ofour menu and it's important that our learners understand how to cater for dietary requirements. They'll work on units 226 and 233 forpreparing and cooking vegetables and be taught how to make a porcini sauce under unit 236. £13.95
Creamed leek, sweet potato and Cornish Yarg pie, artichoke and white bean mash, saute spinach V
Here's another opportunity for students to work on preparing and cooking vegetables as part ofa main course under units 226 and 233. They'll work with artichokes, sweet potatoes and spinach to create a delicious winter dish. £13.50
Braised short rib with colcannon, leeks, parsnip crisps and beef jus This dish will require the students to learn about different cuts ofmeat and how you prepare and cook it under units 222 and 229. £14.95
Roast fillet of hake, smoked haddock, corn and clam chowder, laverbread
It's important for our students to learn how to roast, poach, smoke & grill fish and in this dish, there are lots ofopportunities for them to practise their skills under units 220 and 227. £14.95
Side orders
Triple-cooked chips with red wine and salt vinegar £4.50
Seasonal vegetables £4.50
Side salad £3.95
Dessert
By finishing your meal with one ofour delicious hot or cold desserts, it will enable our students to practise their patisserie skills and learn how to plate up all of the sweet ingredients to serve a perfect pudding under unit 249.
Warm chocolate tart, gingerbread ice cream, stem ginger and vanilla syrup £6.75
Sticky date pudding, toffee sauce, buttermilk ice cream £6.75
Poached pear and vanilla Charlotte russe Ve £6.75
Selection of ice cream £6.75
The prisoners learn about seasonal fruits, nuts and chocolate and put this knowledge into practise throughout the year as they make fresh ice cream daily while working towards unit 249 .
Local cheese board, fruit chutney, celery, grapes £7.95
Having an understanding oflocal cheeses means our prisoners know how to put together a delicious cheese board. Preparing and cutting the different fruit and vegetables teaches them skills under unit 226.
Allergen information
Our kitchen uses a variety of ingredients, including nuts.
For all allergen information please ask your server.
V- Vegetarian Ve Vegan
Whilst you may be familiar with recognising good service by leaving a tip, the unique position of our restaurants means this is not possible when dining at The Clink. Instead, we would ask you to consider contributing a similar sum to support us in our charitable work in changing attitudes, transforming lives and creating second chances by leaving a donation in the envelope provided.
APPROVED CENTRE City Guilds