Hythe Rotary Tribute Page
This page is to commemorate some of our senior members
Hythe Rotary mourns the loss of valued Rotarians during the 2018/19 year
Dr John Baker, a Hythe Rotarian since 2007, and a longstanding GP who wasmuch loved by his patients. John had an extremely sharp wit and his comments would often bring a laugh to the meetings.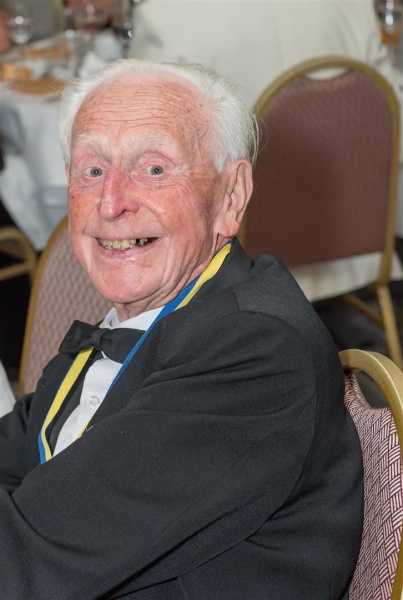 Henry Shackleton, a Rotarian of some 40 years standing having joined in 1978. A much-loved individual who lived a full and varied life from being a WW2 Pathfinder Bomber pilot (and POW), to a civil engineer and pillar of local society. Henry always lit up a room when he entered and could always be relied on to serenade our ladies or whisk them around the dance floor.
George Brown, another long service Rotarian, having joined the club in 1996. George's meticulous record keeping, and publication of the monthly "Hesperus" newsletter were the backbone of the club. He published the annual directory of members and their partners plus also taking charge of all raffle arrangements. His management of this task resulted in a significant contribution to Hythe Rotary's charitable fund raising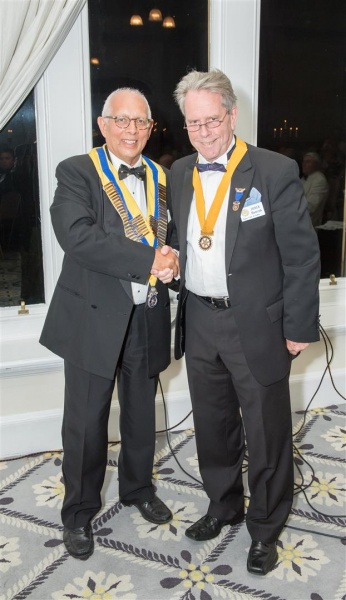 Derek Hancock, died suddenly whilst doing what he did best, attending to Rotary Business. Pictured here on his installation for a second term as President of the club, having also served a term in 2009. A Methodist Minster of Religion, Derek joined the club in 2000 His energy and enthusiasm for all things Rotary will be sadly missed
David Booth was one of the instigators of Hythe Rotary's long association with The Gambia and the village of Ballanghar. In fact many years ago with other Rotarians he journeyed there in arduous conditions. Their mission to cement cultural ties and to give what they could give to the needy people of The Gambia, and thus epitomise the ideals of Hythe Rotary and our global organisation Rotary International
David was known for his character of friendliness, wisdom, simplicity and an overt appreciation of people, no matter from where they come or from their historical belonging.
Reg Belcourt was President of Hythe Rotary in 2011 and also a town councillor serving from 1999 to 2003 and again from 2007 to 2019. His late wife, Karen, was also a town councillor and served a term as Mayor. By trade Reg was a Master Mariner, captaining ships for Stenna. Originally from Mauritius, Reg had a very warm and humorous charecter. He will be particuilarily missed by the many children and youths who he fostered and helped to make their way in life.
Bill Hewson was a very lomg standing Rotarian, in fact he servied a term as President of Hythe Rotary Club as long ago as 1980. He was always an active and committed Rotarian as well as strong supporter of sports clubs in the area. He served countless terms as chairman or president of football and cricket clubs in our community. Bill was recognised for his many decades of service to local sport by being awarded an MBE in 2018