Rotarians on the road for FareShare
Dundee Rotarians are volunteering as "white van men" to distribute surplus in-date supermarket food to charities.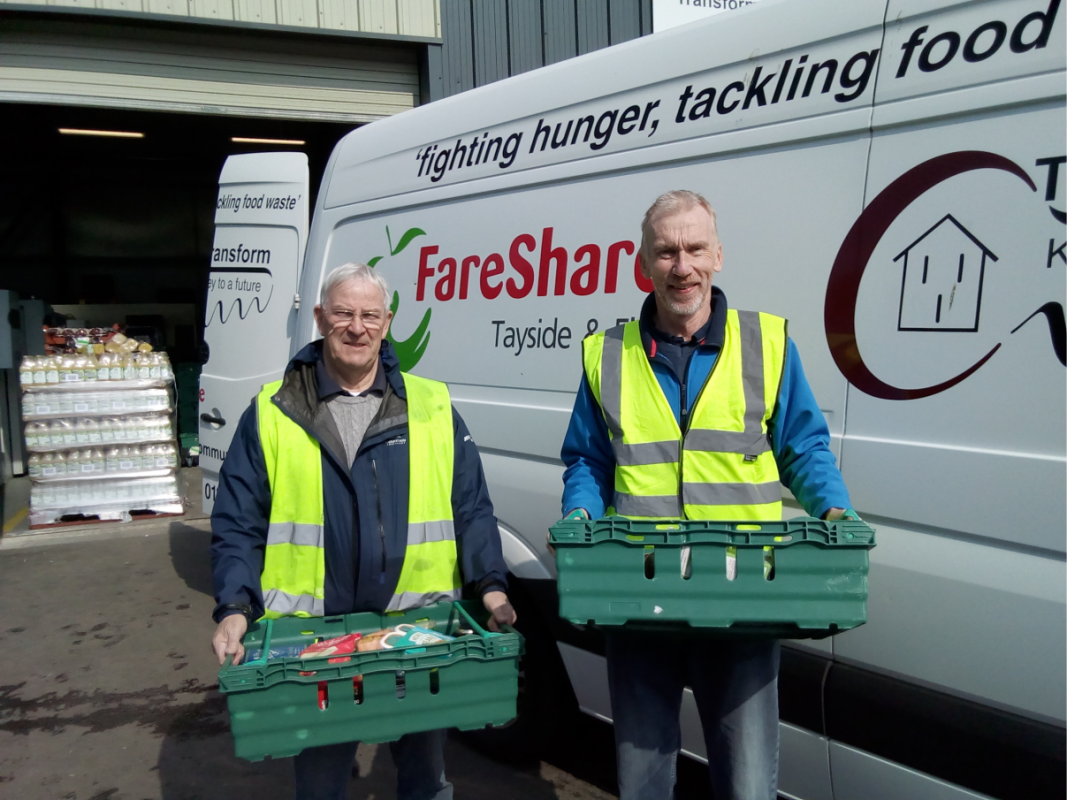 Dundee Rotarians are volunteering as "white van men" to distribute surplus in-date supermarket food to charities.
President Gavin Strachan and secretary Andrew Argo have for two years spent Monday mornings delivering food that supermarkets can't sell to meal-providing charities in Angus under the FareShare scheme.
Supermarkets can find themselves with surplus stock for a number of reasons.
As well as over-estimated customer demand, there can be packaging or labelling errors and food that is past its Best Before date but is covered by manufacturers' extension letters.
Meat, fish, eggs and dairy products are accepted from supermarkets as are fruit and vegetables and chilled ready meals.
Ambient food including pasta, cans and cereals are also received along with bakery products.
Rather than sending it to landfill and incurring disposal charges, the supermarkets donate their surplus food to FareShare.
Across the UK the organisation whose motto is "fighting hunger, tackling food waste" receives tens of thousands of tonnes from the food industry.
FareShare redistributes it in 1500 towns and cities where charities and community groups turn it into meals for vulnerable people.
Last year FareShare distributed enough food in the UK for 36.7 million meals.
In Dundee the surplus food is stored in FareShare's depot where a new chiller and freezer have been added.
With increased capacity, the project in Dundee can accept more food to benefit more people.
The project in the city supplies more than 120 charities, including holiday hunger schemes, homeless hostels, refuges, family centres and hospices.
In the year to March 2019 FareShare in Dundee shipped 311 tonnes of food, an increase of almost 60% on the previous 12 months.
Without the surplus supermarket food from FareShare, many people using these centres would struggle to receive regular meals.
The customers pay a membership fee to cover the costs of the service.
Dundee Rotary Club's involvement in FareShare came about through Rotarian Jim Pickett, a former board member of Transform Community Development in Dundee which operates FareShare in the city.
FareShare needs volunteers to drive its delivery vans, and members of Dundee Rotary Club joined the charity's team of helpers.
The project fulfils one of Rotary's main aims to provide a service to the community.
Chris Doig, manager of FareShare in Dundee said: "Our efforts would not be possible without the incredible work from our team of volunteers including members of the Rotary Club of Dundee."
Dundee Rotary president Gavin Strachan commented: "The work done by FareShare is invaluable and is very much appreciated by the recipients.
"It is unfortunate that in this day there is such a need.
"The involvement of the Rotary Club of Dundee is another example of vocational work we can offer the community and embraces the objective of "Service Above Self"."
As well as Angus, FareShare in Dundee distributes surplus supermarket food to charities around the city and in Perth and Kinross and Fife.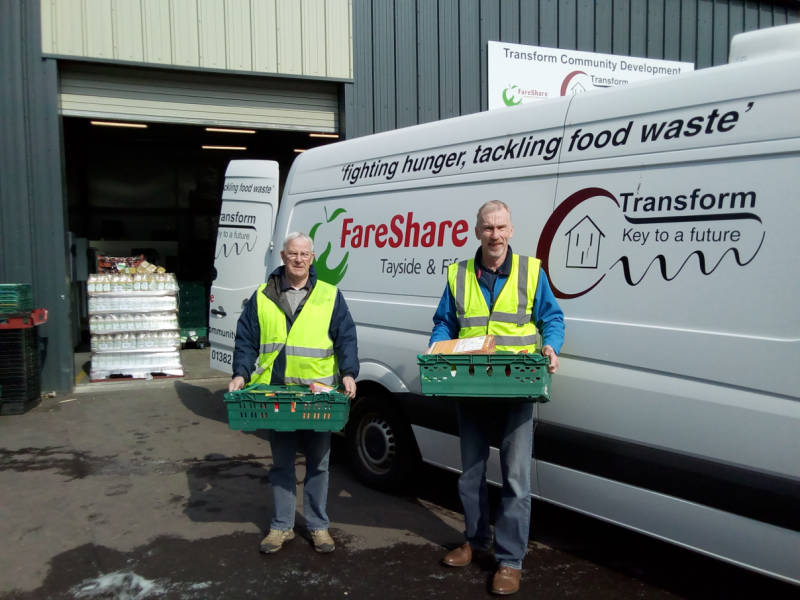 Dundee Rotary president Gavin Strachan (left) and secretary Andrew Argo on the FareShare run.