SANTA FUN RUN at NARBERTH TOWN CENTRE 2019
Sun 8th December 2019 at 11.00 - 13.00
SANTA FUN RUN at NARBERTH TOWN CENTRE 2019 organised by Narberth & Whitland Rotary Club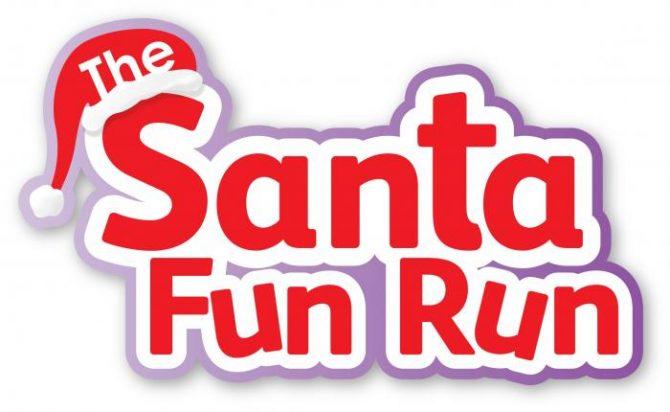 SANTA FUN RUN at NARBERTH TOWN CENTRE 2019
Organised by Narberth & Whitland Rotary
Provisional information and subject to change.
3km Santa Fun Run on Sunday 8th December 2019 starting in Town Moor Car Park, Narberth. Check in at the rear of The Queen's Hall from 10:3am to pick up Santa suits and get ready for a warm up at 11.45am. THE FUN RUN STARTS AT 12 NOON PROMPT and finishes in the Narberth RFC Car Park where Santa's Sleigh will be there to greet the children and Adults can enjoy a free warm glass of mulled wine and a mince pie each.
Entries now OPEN . CLICK HERE TO ENTER
NOTE:
Closing time for online registration is 12 noon on Saturday 30th November or earlier if run capacity is reached. Suits can be collected on the day 8th December from the rear of the Queen's Hall. Please bring a copy of your registration form with you when doing so.
In the unlikely event that the Santa Fun Run must be cancelled due to severe inclement weather, all entry fees are non-refundable and will be treated as a charitable donation for The Narberth Food Bank and other Rotary good causes. Entrants will still be able to collect their Santa suits and proceed to the Narberth RFC for the free glass of mulled wine and mince pie. Children will still be able to see Santa's sleigh at the Rugby Club.
The event is organised by Narberth & Whitland Rotary with the kind assistance of Pembrokeshire County Council; The Queens Hall Committee; Narberth RFC; Narberth & Whitland Round Table and Mr Callum Goldthorpe event coordinator.
The object is to have fun and to raise money for THE NARBERTH FOOD BANK and Rotary worthy causes. Entries fees after payment of costs, which are kept to an absolute minimum, will be donated to The Rotary holding fund ready for distribution.
Please read all the information on this page before registering at the bottom as this will constitute acceptance of the terms and conditions.
Date: Sunday 8th December 2019
THE SANTA ROUTES HIGHLIGHTED IN PINK SHOW DIRECTION OF TRAVEL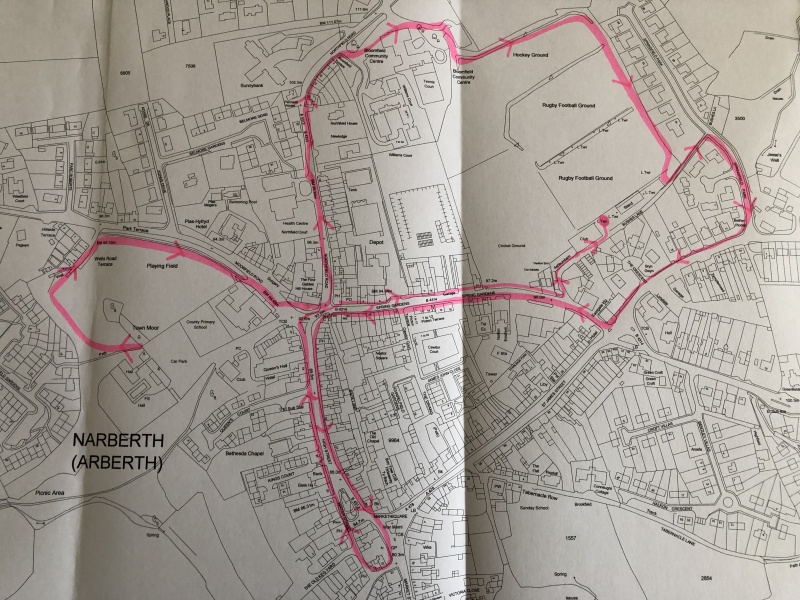 Meeting Place:
Rear of the Queens Hall, Town Moor Car Park, Narberth, SA67 7DF
Times:
10:30 Event opens, Runners book in to receive official runner number.
11.45 Pre-Fun Run Warm Up.
12:00 Fun Run Starts. Wheelchair users at the front to avoid clashes.
13.00 The Formal Event Ends and Santa's Sleigh will be in the Narberth FRC Car Park where one of Santa's helpers will greet the children with sweets. All runners will receive a medal.
Entry Fee:
£15 Adults (18+)
£12 Seniors and Wheelchair users
£10 Youth (8-17)
FREE (7and under) – Note these entrants will have a free Santa Hat but no suit.
Paid-up runners will receive a Santa outfit consisting of Jacket, trousers, belt, hat and white beard. Suits to be collected with proof of registration from the registration desk in the rear of the Queens Hall on the day. Those that complete the Run will receive a medal.
Adults will receive a free glass of warm mulled wine and a mince pie each.
Route:
Start from the rear of The Queens Hall, proceed across the Town Moor to the Scout Hut and enter the Moor footpath, travel around in a clockwise direction and arrive at the front of the Old School Building on the pavement by the bus stop.
Cross the road heading North to enter Northfield Road arriving at the Bloomfield Community Centre Car park. Travel clockwise around Bloomfield house to find the footpath leading down towards the Rugby Club.
At Bushes lane, turn left to arrive at Springfield Park then turn right to find Jesse Road. Turn right and travel back towards the Town Centre turning right into Spring Gardens then turn left to head down the High Street.
At the bottom of High Street, proceed past the War memorial and turn right at the Old Magistrates Court, then right at The Eagle Pub to head up water street and back into high Street.
At the top of High Street turn right and head back along Spring gardens to enter Bushes Lane where you will find the Narberth RFC and The Santa Sleigh (courtesy of Narberth & Whitland Round Table).
Registration and Payment:
This is to be done via the Narberth & Whitland Rotary Website.

Please 'like' Narberth & Whitland Rotary Club on Facebook to be in the loop
Suits will be available for collection from 10.30am on the day of the event, which is 8
th
Dec2019, at the rear of the Queens Hall.
Terms and Conditions:
This is a Fun Run which is not timed so it is not a race. Runners can walk as much as they like. The route goes through public areas (streets, shopping areas etc.) and the public, bystanders and supporters should be treated with respect and given priority. Be aware, the public will be of all ages - old, young, fit and not so fit and may have pets in tow. There will be qualified First Aiders present, but participants are responsible for their own safety, including their fitness to do the event.
Young Runners – Children (7 years and under), Young People (8-17 yrs.)
Ages are considered at 30th November 2019. All Young People (8-17) and Children (7years and under) can only compete with the permission of their parent or guardian who are responsible for their safe conduct and behavior throughout the event. Children (7 years and under) must be accompanied by the named responsible adult throughout the event.
8-17 year old's, who are not accompanied by an adult responsible for them, will need to hand in an information and permission slip signed by their parent or guardian when collecting their race number on the day.
Road Crossings:
A good deal of the route is in the Narberth Town Centre which is mainly closed to traffic, there will be some crossings of roads and private driveways. Although Marshals will be present at key points and changes in direction, runners will be crossing or running along some partially live roads at their own risk and must obey the Highway Code. Those who are responsible for Young People (8 -17) must ensure that the Young People understand and will abide by these conditions.
Only if you have read and agree to the above conditions, please click on the Link below to register and pay for your entry. Have an enjoyable and worthwhile day.
Please contact ken@kenmorganarchitects.co.uk or 07972 378 301 if you have any questions. The allowed entry numbers are limited to a maximum number of 200 (for this inaugural event) so please register early to avoid disappointment.
Photography:
Some photographs will be taken for publicity purposes which Narberth & Whitland Rotary may want to use on their websites. The local press may also be present to take their own photographs. If you should not want photographs taken of individuals in your group, please let us know at registration. We will provide a GREEN tag for identification to make every effort to exclude them from photos taken under our control.
Please 'like' Narberth & Whitland Rotary Club on Facebook.
Acknowledgements:
1. Narberth & Whitland Rotary wishes to thank Pembrokeshire County Council; The Queens Hall Committee; Narberth RFC; Narberth & Whitland Round Table and Mr Callum Goldthorpe event coordinator for their help and support for this charitable Santa Fun Run 2019.his Sharing Button