Christmas Collecting
Tue 3rd December 2019 at 18.30 - Mon 23rd December 2019 - 21.00
The 55th Christmas Collection is well ahead in preparation with 561 volunteer slots booked and 32 different routes identified. Plus Santa will be in Bowen Sq on the 7th, 14th and 21st plus the Country Park on the 23rd.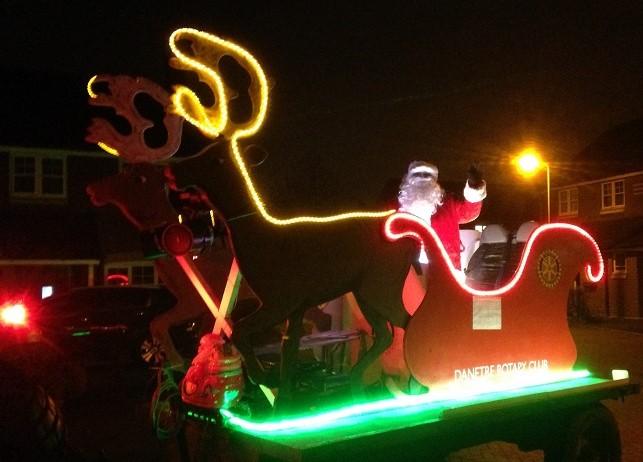 Please click on the links to see the latest rota information.
Evenings Saturdays And for Rotary Members only Counting
Please scroll down to see some of what Rotary has done with last years collection and keep on scrolling to see the organisations that will be helping to get Father Christmas down your road.
This table has all the Villages and Daventry Town areas being collected. Clicking on each brings up a map of the meeting place for the volunteers.
The Rotary Club of Danetre Daventry are well advanced with their plans for the 55th visit of Father Christmas to the streets of Daventry and District.
With 29 local organisations helping and 561 volunteers already identified, it gives some idea of the scale of this project.
Danetre Rotary are pleased to confirm that as in every previous year, ALL collection proceeds will be used locally. They will initially be shared with our participating locally based partners and the portion retained by Rotary, will be used for projects to benefit the local community.
The following are just some examples of what Rotary has recently done:
This summer Rotary took 50 children, identified by their teachers as deserving, to Wickstead Park for the annual and National Kids Out Day.
Annually we run Young Chef, Youth Speaks and Young Photography competitions for local Senior Schools. Another annual event in Primary and Junior Schools is the Presentation of Rotary Stars to children whose Teachers have identified as trying extra hard.
Cube Disability, Daventry 'Young Carers' Xmas Hampers, as well as the Daventry 'Green Health', 'Diabetes UK' Group, Mind and the 'Clean & Green Project have all recently received Donations from previous Christmas Collections.
Also benefitting from the Christmas Collection have been Daventry Contact and the Friends of Daventry Country Park. The Holiday Lunches project run by the local Churches during the summer was also fully funded by Rotary.
So, when you hear Father Christmas coming down your road – and you make your Donation - remember the money raised locally is spent locally.
-----------------------------------------------------------------------------------------------------------------------
This is the list of organisations helping Father Christmas in 2019
| | |
| --- | --- |
| Byfield School | 1st Daventry Guides |
| 2nd Braunston Scouts | Ashby Fields Scouts |
| Barby School PTA | Children Come First |
| Daventry Golf Club | Daventry Guide Dogs |
| Daventry Phoenix Explorers | Daventry Rugby Club |
| Dolphins Swimming Club | Friends of Citizens Advice |
| Friends of Braunston School | Friends of Danetre Hospital |
| Friends of Newnham School | Helping Hands |
| Kilsby School Association | Macmillan Cancer Support |
| Nether Heyford Pre-School | Rhythmic Expressions Dance |
| 2nd Braunston Brownies | St Mary's Boddington |
| Weedon Musical Fun | Welton Brownies |
| Welton CE Academy PTA | |
| | |
| | |