SMALLS FOR ALL 2019
Tue 1st October 2019 at 00.05 - Tue 26th November 2019 - 00.05
Greenock Rotarians invite schools, youth groups, church and civic groups, businesses and residents of Inverclyde to support their fourth Smalls For All appeal which opens on 1st October 2019.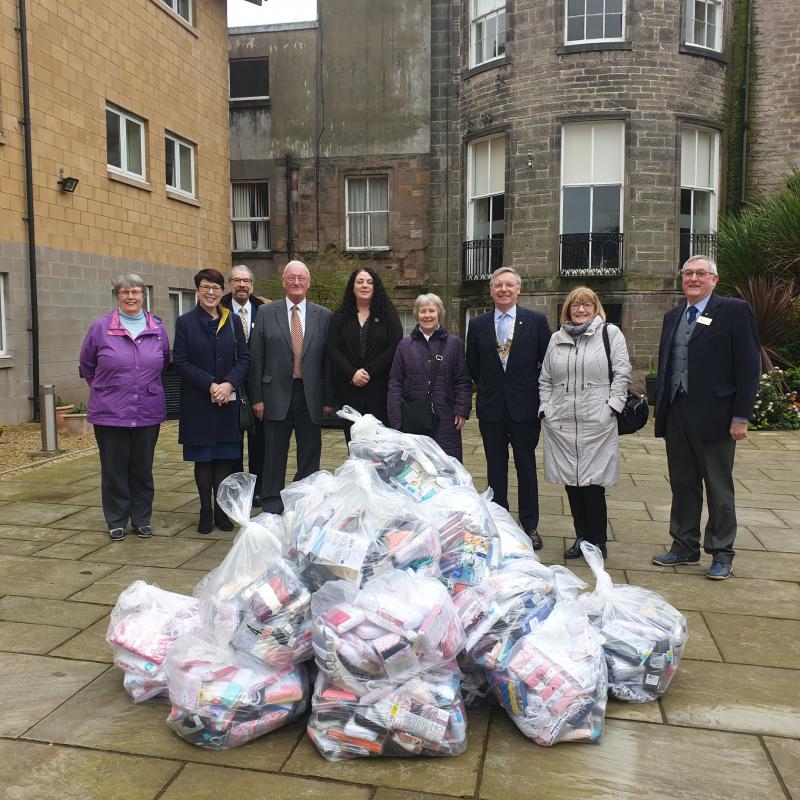 Maria Macnamara MBE, DUniv Open, the charity founder (fifth from left) accepting 5,643 pairs of new pants at Greenock on 19th February 2019:
Smalls for All® is a Scottish charity which collects and distributes new underwear to help women and children in Africa and the UK.
In Africa, we help those living in orphanages, slums, IDP (internally displaced persons) camps and schools, as well as those in hospitals suffering from medical conditions like obstetric fistula.
We operate from the UK and support people and charitable organisations working on projects in Africa who are able to transport and distribute the pants we collect. Our underwear has gone to many countries in Africa, including Ethiopia, Gambia, Ghana, Guinea, Kenya, Madagascar, Malawi, Namibia, Rwanda, Sierra Leone, Somalia, South Africa, Swaziland, Tanzania, Uganda, Zambia and Zanzibar.
Our discussions with the partners and distributors we regularly work with in Africa help us to build greater understanding and awareness of the challenges some communities face. This has encouraged us to establish a small education programme to support some of the poorest children in countries where we have a presence, helping them to access education. We also help charities that focus on alleviating poverty in the UK by providing them with underwear.