'Food for Christmas Appeal' 2019 - Collection 2
Thu 12th December 2019 at 18.00 - 20.00
We are again holding our annual appeal this year and will be collecting food in the Washington area for distribution to families through The Salvation Army.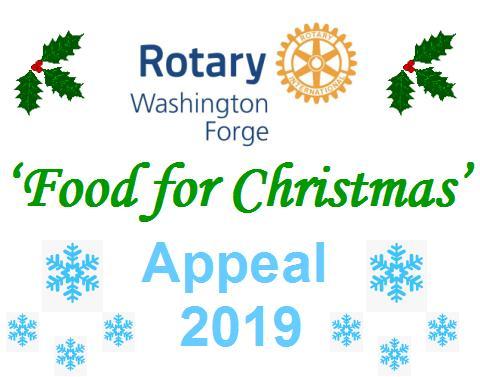 This year we are again holding our 'Food for Christmas' Appeal in Washington. Any donations of foodstuffs (in date) in tins, bottles, jars or packets will be very much appreciated and will be distributed to families through The Salvation Army.
We will be collecting in the following locations on the date shown:-
THURSDAY 12TH DECEMBER 2019 6.00PM - 8.00PM

The General's Wood, High General's Wood, and Ash Meadows

The members of Washington Forge Rotary and their partners in this initiative are very grateful for the wonderful contributions made over recent years and look forward to your continued generous and thoughtful support.