Rotary Club of Burntisland & Kinghorn

Home | The history of chocolate
Tue Mar 31st 2009
Douglas Watson's talk on the History of Chocolate was agreat success for a rotary club guest night.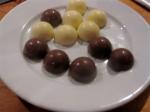 ††
At Burntisland and Kinghorn rotary clubs' weekly meeting at the Burntisland Sands Hotel, Rotarians and their guests listened to amateur chocolateer, Douglas Watson speaking about the history of chocolate and enjoyed the taster session that went with it.† The Glasgow born retired Business Education teacher took up the hobby of designing his own chocolate range after a two day training course at a well known chocolate making† business. Over the period of the night he took his audience on a history tour of how chocolate developed into the chocolate experiences we see today as well as identifying that facts and myths of chocolates make up today.† He also shared with us the reasons why we get a boost! From chocolate and went into the medical properties.† He explained the different processes and qualities we see today as well as provide some riveting chocolate recipes that Rotarians could explore themselves.
A fascinating talk left all who heard it craving for more, chocolate that is, and Douglas provided this with a small range of his chocolates that he sold at the end.