Rotary Club of Bodmin

Aid to Kenya by Rtn. Paul Harrison & Balu Madhvani
AID to Kenya - A personal link by Bodmin Rotarians & Friends to support Kenya.
.
.
May 2013 update:
Fire Appliance aquired > Delivered from Southampton to Redruth > Now undergoing some mechanical repairs. Next > Move to Bodmin Fire Station for further restoration.
Furure plan: Ship Fire Appliance to Kenya Autumn 2013.
Collect educational books and used spectacles to pack into Fire Appliance.
Balu + Paul + Fire experts to visit Kenya possibly Jan 2014 > Provide essential training > Set up 'Eye Camp' (Similar to last time)
A generous donation has been received from the Lions Club of Bodmin.
~~~~~~~~~~~~~~~~~~
Latest - March 2013
A picture of the fire appliance that has been "acquired" for Kenya (Paul & Balu)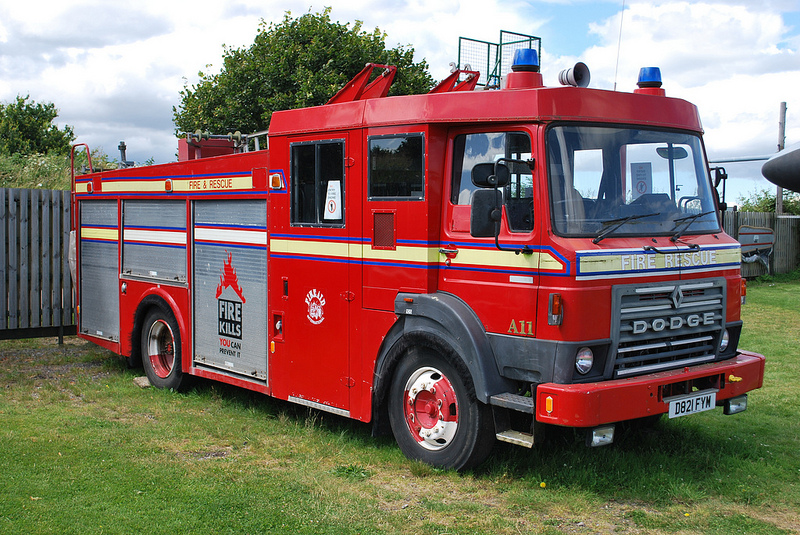 Currently we are awaiting details of the rear axle etc, its needs a new crown wheel and pinion, think that is what the mechanics said. We, the Overseas Project Team, have a scrap Dodge in Redruth that we are cannibalising and scrapping etc; the rear axle we are 99% sure is similar, just awaiting confirmation from Bournemouth. Once the details are sorted Paul and his team will secure a low loader to bring it back to Cornwall for the repairs to the axle. A well equipped workshop is required for this function, maybe a day's work or so, then it will be parked at Bodmin Fire Station and then over to Paul.
Once there it will be all Bodmin RC hands to the pumps to spruce her up etc and the OPT will then source, if possible, the supply of kit/ladders etc.
<>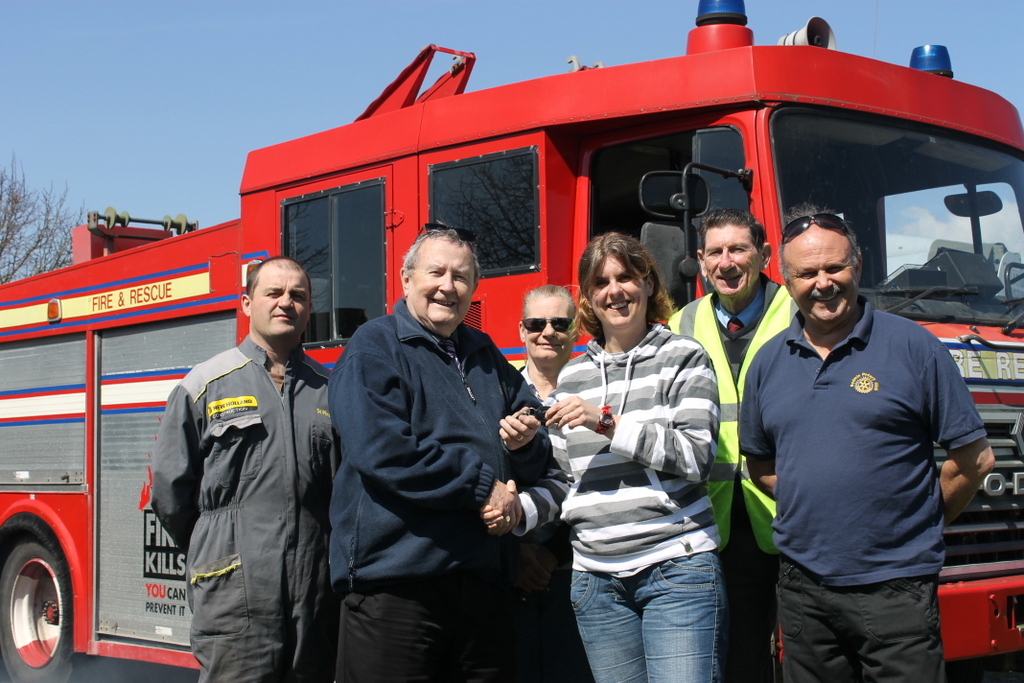 Sat.20/4/13 Pete Robinson, Simon Tose (mechanic) and I went up to Bournmouth to look at the promised fire engine. The photo show the keys being handed over to me by the trustees of Bournmouth Aviation Museum where the engine has been on display for about six months.
The vehicle was once operating for the London Fire Brigade. Simon, the mechanic, was able to get the engine started without too much work but the back axle needs replacing, so it will be brought down on a low loader next Saturday to Scorrier, where Simon will get it fixed.
Paul
Sat.26/4/13 En-route to Scorrier, Redruth - Photo below taken Bodmin By-pss 1610hrs.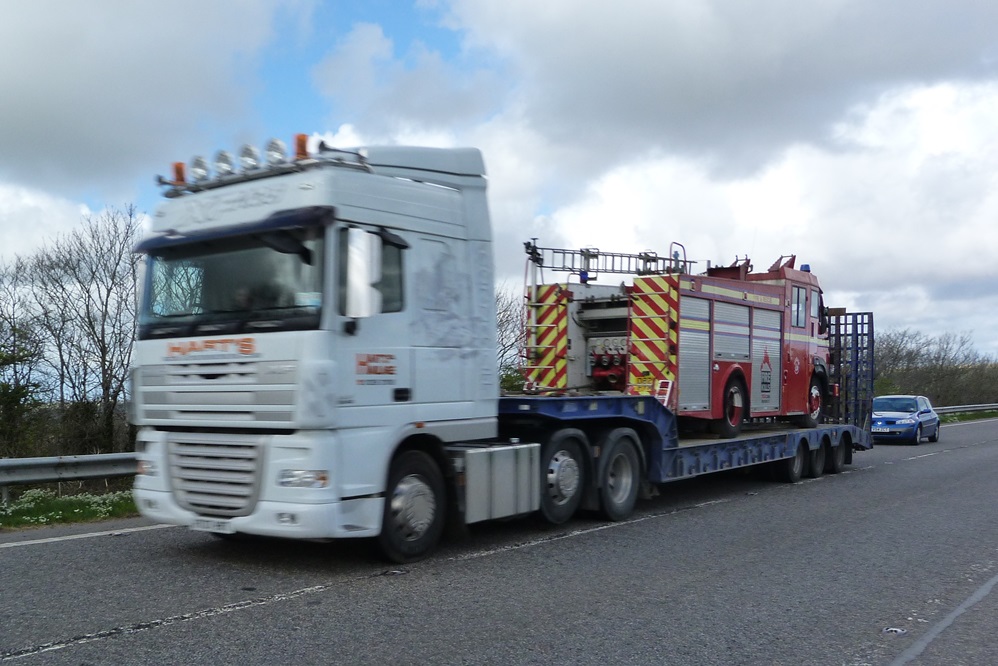 wm
---
Previous aid:
KENYA EYE CAMP - MAY 2009
Rtn. Paul Harrison and Balu Madhvani, chairman of Bodmin Amateur Boxing Club have just returned from Kenya, where they were able to fund an Eye Camp in North-West Kenya with funds that the two organisations raised from a boxing tournament held at the Lakeview Country Club.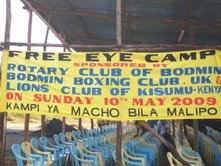 Through their fund raising efforts they were able to take £2200 to Kenya in order to sponsor a Free Eye Camp which was held on Sunday 10th May at Butali Sugar Refinery in the Kakamega District of Kenya. The money raised was enhanced by Bodmin Rotary Club, Balu and customers of Jai the Jeweller.
The site for the Eye Camp was made available by Balu's brother-in -law Jayanti Patel and his family. The family and staff donated their time in helping and preparing the camp, which made their task a lot easier.
.
.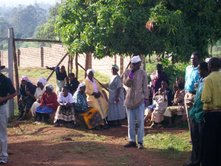 The clinic was scheduled to begin at 9.00am on the Sunday, but the first patients began to arrive at 6.00am. Each was issued with a number which would be the order in which they would be seen. The day before Balu and Paul had travelled over 120 miles on the most appalling roads in a speaker vehicle advertising the eye camp in Swahili ,in a remote part of Malava Forest. The children, when they saw Paul, kept running away, shouting "Muzungu". Balu explained that this meant a white man or a ghost. The children, in this part of the World had not seen a white man before. All the outlying settlements were informed that free transport would be made available to and from the eye camp.
.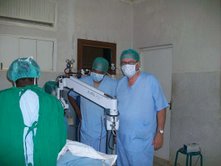 The doctors and technicians came from the Sabatia Eye Hospital, a hospital paid for by The Lions Clubs of Germany.
The people who visited the eye camp ranged in age from 2 years old to ninety-five years and they all waited very patiently and without complaint. They must be the most patient of people as some had waited for well over 8 hours.
.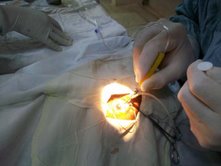 Everyone who attended the camp had their eyes checked and were seen by one of the four ophthalmologists. Altogether 1280 patients were seen, medication being dispensed to all who needed it, over 400 pairs of glasses were dispensed for which a charge of 100 Kenya shillings (about 90p) was made for those who could afford it. Those who could not afford the money were issued them free of charge.79 were referred for cataract operations and these people were separated from the rest and were transported to Sabatia Eye Hospital that evening.
These people were delighted to be taken for their surgery.
The operations were carried out on the following day, and those requiring both eyes were treated on the Tuesday.
When Paul and Balu visited the hospital on Tuesday the patients greeted them with enthusiasm. On showing a photograph to an elderly lady who was waiting for a second operation, she burst into tears and shouted that she could see. She had been blind for three years.
Everything ran very smoothly and Paul and Balu were privileged to attend a cataract operation and were informed by the young German surgeon that it was the most cost-effective operation. Certainly the people who had the operation had a life-changing procedure and were so thankful .
The cost of all this clinic came to about £1600 and the remainder of the money was left in Kenya to have school desks and benches made for local schools.
All in all this was a most satisfying adventure and certainly helped some of the less fortunate people in the world.
Paul & Balu