D1020 GSE team make headlines in Ohio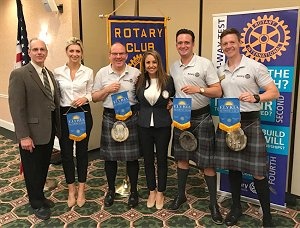 The D1020 GSE team visiting Ohio, were featured in local paper The Chronicle during ther stop in Elyria, Ohio. Led by PDG Andy Ireland and hosted by local Rotarians the team of young professionals are visiting their counterparts in the States to learn how their own professions, and people's lives, differ from those at home.

Elyria Rotarian George Costaras said the visit encourages peace and cultural exchange.

"To me this is internationalism. A big concept in Rotary is making friendship and peace one person at a time. Its big part of what Rotary is about," he said. "This is our opportunity for our club, a small club, that doesn't always know what to get involved in. As you can see from today, it just re-energizes us."
Click here to read the article.
RIBI President comes to Edinburgh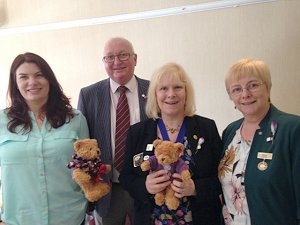 RIBI President Eve Conway was among 13 visitors from across the world to the Rotary Club of Edinburgh's meeting this week. Greetings were exchanged and from Honolulu Pau Hana member Erica Soderlind there was a special Lei Greeting for Club President John Williams, which was quickly taken over by one of the visiting Rotary Polio Bears. For District Governor Olive Geddes it meant a welcome home meeting, to hear incoming President Ian Starkey presenting to Club Assembly.

Scottish Parliament recognises Rotary
MSP John Lamont praised the work of Rotary districts across Scotland in delivering projects to improve their local area and beyond, in a motion to the Scottish Parliament on 29th March.

In particular he praised the work of the Rotary District 1020 and he said this was an opportunity to celebrate the work of all the Rotary Clubs in the country.

International Development Minister Alasdair Allan also said it gave him great pleasure to welcome Rotarians to the gallery. Mr Allan praised the work Rotarians do to help save lives around the world.

Mr Lamont congratulated Rotary District 1020 on being awarded two out of 12 Rotary Champions of Change awards in 2016 for humanitarian service. (Click here for a reminder)

The Tory MSP says that the Rotary Club of Galashiels has recently delivered 15 analogue breast screening lorries to India, in partnership with Indian Rotaries and led by local Rotarians, Patricia Paterson and Peter Croan.

Melrose 7s 2017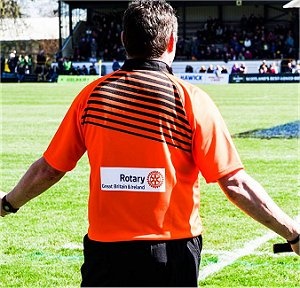 For the second year in a row, Rotary in Great Britain & Ireland was a sponsor of the Melrose 7s, the oldest rugby 7s competition in the world.

There were pitchside Rotary banners, and all match officials had the Rotary logo on their shirts. The Rotary marquee was a focal point to publicise our work, and with four hours live coverage on BBC2 this gave Rotary a massive publicity boost.
Melrose being in our district, a number of 1020 Rotarians from the borders and beyond helped on the day, which was deemed a great success, for both Rotary and rugby.
Purple4Polio crocuses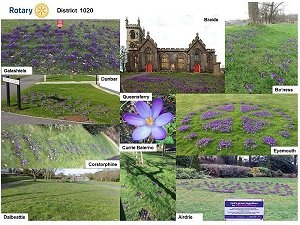 Clubs across D1020 have been planting crocuses as part of the Purple4Polio campain to raise awareness of the fight against polio.
You can see a slideshow of some of them in the Foundation section.
District Foundation Centenary Project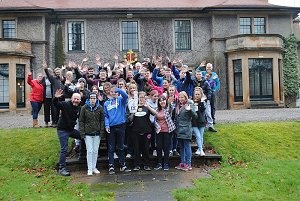 The District Foundation Centenary project, in conjunction with the Duke of Edinburgh's Award Scotland, was launched in February with a residential weekend at Carronvale House for disadvantaged youngsters as part of their DoE.
You can read more about it by going to the Duke of Edinburgh's Award section of the "What we do" menu above and clicking the link on the right, or click here to go straight to the page.
Lanark wins inter-district curling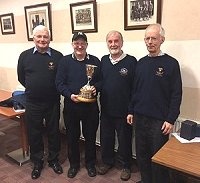 Congratulations to The Rotary Club of Lanark Curling Team as they win the Garside Curling League again.

The Garside League is a curling league for the West of Scotland Rotary area which has been held annually since 1955.
Clubs from Rotary Districts 1230 and 1020 competed in an A and B league format with games played in a variety of ice rinks including Braehead, Hamilton, East Kilbride and Greenside.

Rotary Foundation Receives Top Honour

The Rotary Foundation, charitable arm of Rotary, has been named the
2016 Outstanding Foundation
by the Association of Fundraising Professionals (AFP).
"While almost everyone is familiar with Rotary, not everyone may realise just how much an impact Rotary and the Rotary Foundation have had on countless people and communities across the globe," said interim AFP President and CEO Jason Lee in a press release.
More >
Sammi Kinghorn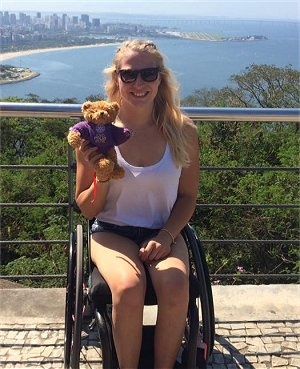 Rotary Young Citizen winner and Honorary Member of The Rotary Eclub of Southern Scotland Sammi Kinghorn smashed the European T53 800 metres record to reach her third final of the Rio Paralympics last year.

Sammi finished sixth in the final. She was twice blocked in between 300 metres and 500 metres and had come wide in the closing stages.

Sammi also reached the 100 metres final on the opening day of competition, where she finished fifth, and the 400 metres, where she finished sixth but was later disqualified for a lane infringement.

The picture shows Sammi and Peter, her Rotary Polio Bear, up Sugarloaf Mountain in Rio.
Flood Relief Fund aids local communities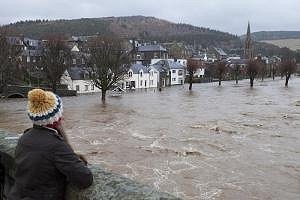 Thanks to donations by Rotarians and Rotary Clubs across Scotland, funds were collected to help communities affected by the unprecedented flooding at the turn of last year. Find out how some of the funds have been used by Rotary Clubs to help their communites get back to normal.
Could you be a Rotarian?
Is Rotary for you? Have a look at this and see. If you think it is, why not contact a local club?
About Rotary District 1020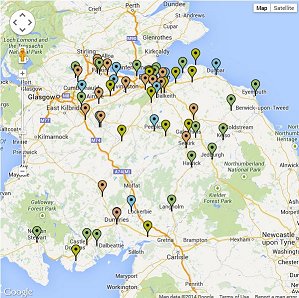 District 1020 covers the south of Scotland from coast to coast and from the Forth to the Borders.
We have around 1700 members in 59 Clubs
Click on the "Clubs" tab above to find out more about them, or find a Club near you by using this postcode search facility
Rotarians are supporting this website by advertising on it
Follow this link to see their advertisements