Summer Camp 2014
Summer Camp has just ended after a great two weeks. Above are the campers at the final barbecue at Petty Pool.
You can see what they did during their stay by visiting their facebook page
---
New Rotary (Masterbrand) Brand Lapel Pin now available

Size 1-1/8" x 1/2" in size Standard clutch fitting £2.00
Magnetic Fitting £3.00
Available from AW Matthews
See http://www.awmatthews.com/
---
Visit Rotary in NW England & Isle of Man to see what clubs are doing
Quick Links
Help regarding managing the new Membership District Database read more
---

All the information about Conference, including Hotel booking, Registration, the Programme and Entertainment. read more
---
Social Media
Rotary in North West England & Isle of Man
Promote your Page too
Around the district in the next 30 days...
District Disabled Sports Saturday 6th September.
Applications to be returned by 15th August 2014
read more »
Saturday 13th September 2014

Rotary District Membership Seminar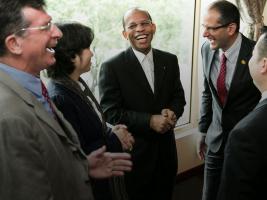 I would like to invite you to this year's membership seminar
read more »