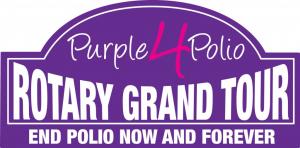 19/11/2017
PURPLE 4 POLIO TOUR GOES LIVE
.
This amazing road trip will take place across Great Britain and Ireland from 21 May to 24 May 2018. Cars of all shapes and sizes can take part and registration is now live!
---
18/11/2017
Centenary Conference Success for DG Maggie
.
The newly refurbished Crowne Plaza Hotel in Plymouth was the venue for this year's Conference. With its central location and stunning views over Plymouth Sound from the restaurant, it is not surprising that it will also be the venue for Conference 2018.
---
19/10/2017
What we Do
.
Swansea Bay is an Exiting and thriving Rotary club in the Heat of Swansea.
---