Rotary International District 1040

PDG John and his wife Chris Philip,are leading a 34 member volunteer team to India next Monday to help immunise in a day a million under fives against Polio.
In the team are Rotarians, non-Rotarians, members of Inner Wheel and friends of Rotary from Yorkshire, Wales, Scotland, Surrey, London, Midlands and Sweden.
Chris reminded the team: 'The killer disease Polio has been eradicated from the world except four countries – India, Pakistan, Afghanistan and Nigeria.
'However, until the last case is wiped off the world and we have three years without a single case any where in the world, our children are at risk. Polio is only a plane ride away.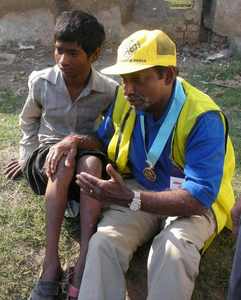 'Many here do not appreciate that our children's routine immunisation gives them low level immunity but it is not adequate if there are live cases here.
'In India, where there are live cases children under five receive Polio drops 8 to 10 times a year to help build up their immunity.'
On 7th February 1 million children under five will receive the life saving drops. The target for the National Immunisation Day is 157 million children all over India.
It was Rotary International that envisioned a Polio free world when there were 180 countries with the disease. It is now confined to four countries in the world.
India is at the forefront of a well organised Polio campaign. As you can imagine an army of volunteers, including local Rotarians and health staff, are required to participate in this massive undertaking. It's a real community effort requiring a huge publicity campaign beforehand to tell people about the NID.'
'We live in a global village. What is India's problem today, could become our problem tomorrow. We must pledge our support to the dedication and commitment of the people involved in eradicating polio.'
For More information, contact Chris Philip