Rotary International District 1040

Home | Youth Speaks | RC of Whitby & District Speak Out 2010
The Rotary Club of Whitby & District held its annual public speaking competition, "Speak Out", for Year 6 pupils, at the Saxonville Hotel on Wednesday, 10th February.
Five local schools took part, each entering one team, which comprised a chairman, a main speaker and a proposer of a vote of thanks. They were Airy Hill, Ruswarp, Sleights, Stakesby and West Cliff.
The standard of speaking was so good it was difficult to believe that the competitors were under twelve years of age. All the teams were worthy ambassadors for their schools.
The competition was won by the team from Ruswarp School who called themselves "In A Stew".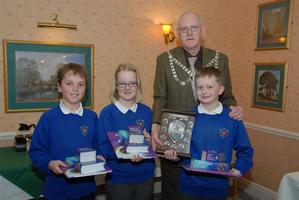 Their chosen subject was 'Food preparation should be taught in school'. The main speaker, Lewis Cole, spoke with the authority of one who has complete command of his subject. He impressed with his research and the easy manner with which he demonstrated excellent public speaking skills. He was tremendously well supported by chairman Patrick Hutton and proposer of the vote of thanks, Bryony Hansell, both playing their roles with confidence, skill and humour. This was an exceptional, mature trio of youngsters whose team work was exemplary.
The runners-up, from West Cliff School, were "West Cliff Whizz Kids" who chose to persuade the audience that 'Top sportsmen are paid more than they are worth'. They made a very powerful case with well-reasoned argument. The main speaker, Tilly Ward, spoke extremely well, demonstrating good knowledge of the implications of her subject. Morgann Russell was a very capable chairman and Amy Clarkson proposed a gracious vote of thanks.
Adjudicating were Ian Dobson and Gwyneth Todd. They were both very impressed with the speeches and praised all the competitors for their achievement. The children thoroughly deserved their prizes, which were obtained from the Oxford University Press and presented by the town mayor Councillor Terry Jennison.
The Saxonville Hotel generously provided the perfect venue, which always makes a valuable contribution to the success of the Rotary Club's public speaking competitions.
Guy Hirst (Youth Speaks coordinator for Whitby & District Rotary Club)