Rotary International District 1040

A team of 25 local Rotary volunteers is just back from Africa, where they worked alongside prisoners and school children to supply water to schools and build a shelter for pregnant women.
Ukerewe is the largest Lake Victoria island, but most of its 350 thousand population live in scattered communities, linked only by mud tracks. The island is reachable only by twice a day ferry, which takes three and half hours from the mainland town of Mwanza, the second largest town in Tanzania.
The project to transform healthcare and water provision began three years ago when Huddersfield Surgeon, John Philip, and his wife, Chris, visited the island. They heard alarming stories of women with complicated pregnancies walking many miles to reach the hospital. John says: "Four women had died in labour on the way to the hospital. This was heartbreaking, especially in a day and age when this can be prevented. We decided there and then to find a way to help. Using our contacts and by persuading medical colleagues to join us, we have rebuilt the operating theatre and helped provide improved care for pregnant women.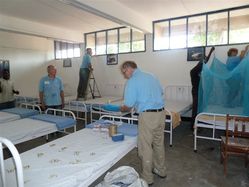 "Our latest visit saw us spend three weeks transforming an old abandoned building and turned it into a 20 bed shelter for pregnant women and bringing clean water to local schools. We improved water supply to the hospital and more importantly installed solar panel lights in operating theatre so that the surgeons won't have to carry out life-saving operations with head-torch!
"Rotary is very hands-on, many may think we just rattle cans but there's a lot more to it than that. We sent out a 40-foot container with vital school and medical supplies as well as building equipment including a concrete mixer.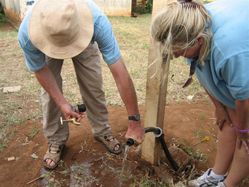 "The community really pulled together to help us. 200 schoolchildren and 30 prisoners joined us in digging two-kilometre trench to supply water to two schools. This will be the first time in the history of these schools that they will have fresh water supplies.
There are 22 secondary schools, most with no water, toilets, electricity, books, many even with no desks or chairs. Being able to bring clean running water, which we take for granted back home, is a humbling experience.
The volunteers did not stop there, vast quantities of tools, including 39 sewing machines and carpentary and masonry tools were left behind so that more youngsters may receive vocational training.
A new microcredit programme has been launched under the supervision of a local committee to empower women. Chris Philip said: "If women become economically more active, there is the likelihood of them encouraging their children, especially girls - to go to school." 
John says: "Our aim was to work alongside the local leaders. We were overwhelmed by the support we had from community leaders, teachers and other professionals. We were not there to handout anything. We tried to demonstrate that their destiny was in their own hands and by working together, they can emerge from their marginalised life. Our hope is that we may have changed a few lives by our example. Those few lives may change other lives."
If you would like to help with this or any other Rotary project, contact your local Rotary club and find out how volunteering your time and skills can make a real difference.