Rotary International District

Home | Newsletters | Rotary Projects respond to Japan Disaster
 Rotary projects respond to Japan disaster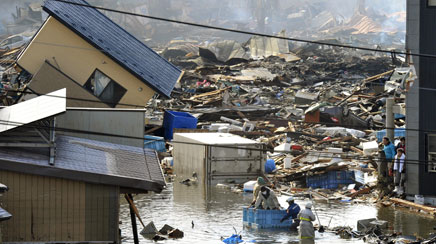 Photograph: Japan, courtesy of Rotary International.
Rotary rapid-response boxes are on their way to Japan, following the devastating 8.9 magnitude earthquake which happened in the early hours of Friday morning. The coastal city of Sendai has been hit hard with reports of high losses of life.
Rotary clubs across Great Britain & Ireland are gearing up for collections to help support the rapid-response box projects.
An initial ShelterBox Response Team made up of ShelterBox Field Operations Specialist, Mark Pearson, and ShelterBox International Director, Rotarian Lasse Petersen, are en-route to Japan to assess the need.
At present, the scale of the disaster is difficult to measure. The combination of such a large earthquake followed by the tsunami has the potential to cause significant damage across the Pacific Rim. Lasse Petersen, ShelterBox International Director, said: "Whole homes are being washed away and our thoughts go out to all the families who are facing this disaster. The epicentre was in Japan so our first team are mobilising to head there but we continue to watch very closely the path of the tsunami. We're very aware the worst may not be over."
Water Survival Box (WSB) is in contact with district governors in the Miyaki and Fukushima prefectures, offering to send WSBs by air. Chairman of WSB, Hugo Pike, says the earthquake and tsunami have caused widespread damage: "A great deal of territory under water in both areas. Families will have been left homeless, without household possessions and without access to clean water, the circumstances for which the Water-Survival Box has been developed. The tsunami may cause major problems in less developed countries around the Pacific Rim and we will be monitoring the situation ready to offer help where needed."
If you would like to make a donation, please contact the organisations directly or your local Rotary club.
Or if Rotarians would prefer you can Donate to District 2770 Saitama Japan, who recently sent a GSE Team to us and who hosted our Outward Bound GSE Team led by Rotarian David Bathers PHF
RID 2770 Governor, Mr.Yoshikazu Ihashi, has just prepared a bank account to deposit funds from domestic and foreign Rotary clubs and Rotarians. See Below
Saitama Resona Bank
Koshigaya branch office Branch number : 506
Ordinary deposit account number : 4720252
Account holder name : Higashi Nihon Daishinsai Gienkin Chikukanji Nakajima Misaburo
SWIFT : SAIBJPJT
To Donate to The Rotary Foundation Click Here: Donation Form Japan Disaster.pdf
Frequently Asked Questions: Donation Form FAQ Japan Disaster (2).pdf
For Rotarians
The Rotary Foundation Chairman, Carl Stenhammer, and the TRF Trustees, have decided:
This fund will accept cash contributions, online donations and DDF donations.
There will not be Paul Harris Fellow recognition for donations to the fund.
Matching Grants and Global Grants related to disaster recovery in Japan and other Pacific island nations must adhere to the policies and guidelines stipulated in the TRF Code of Policies and grant terms and conditions; this includes the restrictions on construction.
The TRF Trustees will waive the minimum percentage of funding requirement of the international (overseas) sponsors for Matching Grants related to these disaster recovery projects, thereby permitting districts in the affected areas to contribute more than 50% of the total DDF and/or cash designated for the grant project.
There will be a request made to the general secretary to provide a recommendation for consideration at the April 2011 Trustees meeting with regard to how the disaster recovery fund will be utilised among the affected districts, eg even percentage split, weighted percentage split, first come/first served, etc.
There will be an extension of the 2011/12 Matching Grants application deadline to 30 April 2011 for grants related to these disaster recovery projects. 
For more information regarding this fund, please contact Harvey Newcomb from The Rotary Foundation Programme