Rotary International District 1150

Home | Interact | Interact Multi District Rally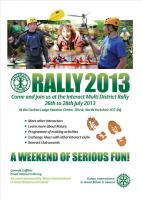 Interact Multi District Rally
What is the Interact Multi District Rally I hear you ask? The IMDR is an opportunity to see what the Interactors do when they get a chance of meeting each other. This year's rally is at Carlton Lodge, Thirsk, N. Yorkshire over the weekend of 26th - 28th July. Please see the Poster (as above) and the Forms (registration, parental consent, medical, ground rules, kit list, directions)
The IMDR offers Interactors throughout RIBI the opportunity to meet up with old friends and make new friends, exchange ideas, participate in challenging activities, learn about other aspects of Rotary and have fun with a capital 'F'. The weekend is based on team building and leadership development through activities and working together
There are no barriers within Interact, the 12 year olds are equal to the 17 year old, and there is no North/South or East/West divide. IMDR gives Interactors the opportunity to meet and spend time with young people from different diversities and to learn about other cultures and backgrounds. Interactors arrive as individuals; they bond through shared experiences and become a group of young people eager to take on the challenges of everyday life.
Members of the newly formed Cardiff and Vale Young Carers Interact club, attended their first IMDR in 2012 and their President said 'We took part in the Interact rally at Morfa Bay which aided us so much, as we were able to meet other interact clubs who have been going for a few years and we were able to get information, contacts and ideas but more importantly have fun and meet new friends. At this rally we were able to talk about the hopes and aspirations for our club and outline our plans for the future. We took part in games and activities which I believed helped us bond as an Interact club and as a community/family. We gained a lot of knowledge and found out a lot of useful information which we have taken on board and are now using to develop our club'.
If President Dan and his Interactors gained so much from IMDR, why not give all Interactors the opportunity to experience this wonderful weekend
So what happens at IMDR that made Dan and other Interactors enjoy it so much. The type of activities that will be included this year are, raft building, canoeing, climbing wall, high ropes to include the 'leap of faith'. In the evenings there are BBQ's and a disco to enjoy.
Each club has the opportunity to share their projects with other Interactors and the clubs presenting the best Community and International project will each receive a shield in recognition of their achievement, with the best overall project receiving £50 from RIBI to use on that project. Interactors will hear interactive presentations from Rotary approved charities and hear about other opportunities available to them
This year's IMDR will take place at Carlton Lodge, Thirsk, N. Yorkshire over the weekend of 26th - 28th July. Check out their website at www.carltonlodge.org.uk Registration forms can be downloaded from the RIBI website at www.ribi.org/youth/interact

So, if your Rotary Club are supporting an Interact Club or are thinking of starting a new club for the benefit of the young people in your area, then please make sure you make them aware of this fun weekend and the opportunity to meet with Interactors from across the UK

Gwenda Griffiths
RIBI New Generations Committee - Interact
Chairman IMDR Steering Committee
Send an email about this page: