Rotary International District 1100

Home | The Rotary 'Boxes' | ShelterBox responding to Turkey earthquake - Help desperately needed
Letter from David Glover of Shelterbox.
Hello ShelterBox Supporters
ShelterBox responding to Turkey earthquake
ShelterBox is responding to the 7.2 magnitude earthquake that struck southeast Turkey on Sunday 23 October, with the epicentre at the village of Tabanli, 20 kilometres north of Van city.†

Two hundred people have been reported as killed following the collapse of dozens of buildings across the region; with thousands more homes severely damaged and many more fatalities expected to be confirmed within the next 24 hours.

ShelterBox is liaising with the Turkish Red Crescent Society and other local contacts with†Mark Pearson, ShelterBox Field Operations Specialist, en-route to the affected area.

'One of the biggest problems the population will face will be the numerous aftershocks and a fear of returning to buildings when so many have been destroyed already. As ever our focus is ensuring the most vulnerable are receiving aid as quickly as possible,' Mark said.

Emergency help urgent

Zulfukar Arapoglu, the mayor of Ercis district of Van, told news broadcaster NTV: 'A lot of buildings have collapsed, many people were killed, but we don't know the number. We are waiting for emergency help, it's very urgent.

'We need tents urgently and rescue teams. We don't have any ambulances, and we only have one hospital. We have many killed and injured.'
Kind Regards
David
David Glover
UK & Ireland Rotary & Speaker Network Co-ordinator
ShelterBox: A Global Rotary Club Project
e:
David Glover
t: + 44 (0)1326 569 782†††††††††††† m:+ 44 (0)7962 685 769w:
www.shelterbox.org


††

ShelterBox
, Unit 1A, Water-Ma-Trout, Helston, Cornwall, TR13 0LWCharity Number 1096479
Company Number 4612652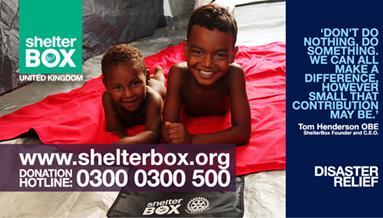 Public donations are vital to Shelterbox's continuing work. To make a donation please ring 0300 0300 500 or go to www.shelterbox.org†to donate online and get the latest updates on our response to disasters around the world.†
Pictures used on this page, including the Shelterbox logo and letter signoff, used†with permission from Shelterbox.