Rotary International District 1040

Home | Club News | A Sailing Adventure through Rotary
Two young people recently enjoyed a five days sailing adventure on the James Cook sailing ship, sponsored by the Rotary Club of Sowerby Bridge
 "I cooked a curry for 17 whilst sailing in 7 foot waves"
So said 17 year old Jayna Patel from the Sowerby Bridge Youth Club. She has recently returned from a 5 day sailing adventure on the James Cook tall ship sponsored by the Rotary Club of Sowerby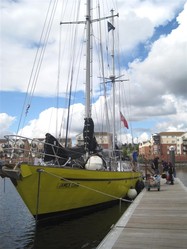 Bridge as part of their Youth Projects. My best bits were "I cooked a curry for 17 on my own and was really proud of myself, had a shower, great ice crean sundaes in Scarborough where we stopped, meet all these amazing people who I am still in touch with. The skipper, Grace was very patient and funny. I learned all about knots, helped put up the sails, steered, did a night watch, learned all the names of parts of the ship and improved my confidence."

Also sponsored by the Rotary Club and also from the Youth Club, Heather Pownall, just 16 who went a week earlier. "We sailed under the Forth Bridge up to Port Edgar, on to Inch Keith a small island, motored to Holy Island as there was not enough wind to sail. I had a wonderful time full of unforgettable memories. I made new friends from all over, and we already meet up regularly. It was an excellent opportunity and I got my yachting certificate. I want to go again.. It was amazing."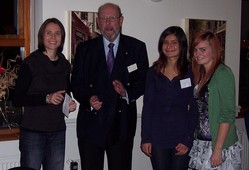 Both of the young people came to update the Club on their trip and each made an impressive power point presentation to show the highlights, showing poise and composure well beyond their years.
For more information about sailing opportunities for young people supported by Rotary, click on Youth Development under Sail