Rotary International District 1190

Home | New Generations
Rotary District 1190 New Generations homepage
Welcome to Rotary District 1190's 2012-13 website for young people
On the left hand side you can see a long list of exciting opportunities for you to investigate and participate in should you wish to. If you would like an overview of what's available please click on Menu for Clubs 2012-13 and check the email address of the Rotarian you can contact for more information. You will need to be sponsored/supported by one of the 73 Rotary Clubs in this District. Find out the one nearest to you by a) looking at the map & b) looking at the list and contact the relevant secretary in that Club.
It's been another successful year regarding Rotary Young Citizen. An outstanding Young Citizen from Preston called Rabiya Ahmed was one of the finalists chosen to be invited to Rotary's national Conference in Bournemouth. She was televised live describing what she had achieved in her local community. Click on http://www.ribi.org/committees/new-generations/ribi-young-citizen-award/ribi-young-citizen-2012-winners to find out what she's doing in her community that is so special. It warms your heart to share the dreams and the commitment shown by these young people and I'm proud that Rotary celebrates your achievements in such a public way.
It's been an outstanding year for one of our Interact Clubs based at Fleetwood High School & sponsored by the Rotary Club of Fleetwood. The Interactors applied for and were successful in their bid to help at the Paralympics from 29th August - 9th September 2012. They then completed a Changemaker Award for Interact Clubs application form where a minimum of 5 of the following activities had to be complied with:
A) Meet at least twice a month
B) Ensure that each member of the Club is assigned a specific role
C) Participate in at least one local project that serves the school or community
D) Carry out an environmental service project
E) Participate in a "Million Smiles a Day" campaign (concept is simple – club members should consciously 'give' one smile per day to another person through a good deed or gesture – as more people commit themselves to little acts of kindness each day, the global benefit will be enormous)
F) Participate in a fundraiser to support polio eradication or one of Rotary's six areas of focus
G) Use social networking to increase awareness of Rotary among young adults in the community
H) Participate in professional development activities that enhance club members' ability to compete in the job market
I) Conduct an activity to promote the Four-Way Test – eg a discussion forum on ethics
Of the things we think, say or do, is it the TRUTH? Is it FAIR to all concerned? Will it build GOOD WILL & BETTER FRIENDSHIPS? Will it be BENEFICIAL to all concerned?
This was their reaction when they realised they had been successful in their bid for the Changemaker Award!
This next picture encapsulates the inclusivity of Rotary. District Governor Ron Duxbury had been invited to the Rotary Club of Fleetwood to give the Interactors their much deserved award signed by the RI President Kalyan Bannerjee. At this same meeting three new Rotary members were inducted into the Club, Mrs Doreen Lofthouse OBE, of Fisherman's Friend fame (grey haired lady with her back to the camera) was presented with a PHF Sapphire Pin in recognition of her unstinting support of so much in the community. Sitting next to Doreen on her left was Margaret Lund who was awarded the RIBI President's citation for all her work with Rotakids. What a memorable meeting - the Interactors will be under no illusion about just how special Rotary can be………
An Interact Club is a Rotary Youth Club for 12-17 year olds based either in an Explorer's Group as is the Interact Club sponsored by the Rotary Club of Bacup, or a school, or sports club or any organisation you belong to. To make it viable you need at least 15 members. Do you think belonging to an Interact Club would add value to your leisure time? Try contacting the Rotarian listed in the Menu with responsibility for Interact Clubs. I'm sure she'd love to hear from you!
The Rotary theme this next Rotary year is "Peace through Service" and it provides the focus for some of our competitions, please click on the ones in the list on the left to find out how you can participate – don't forget you need to enter with the support of your local Rotary Club.
Finally, we like to make a positive difference in the lives of young people. Click here to hear how Jordan's life was changed after he had attended a RYPEN (Rotary Youth Programme of Enrichment) course at Castle Head, near Grange.
What's stopping you – have a look & get involved – and most importantly - enjoy!
Could you do anything like that? Would you like to try?
If your answer is YES (& we hope it is) find out where your nearest Rotary Club is by clicking here for a list of clubs in our District or looking on the map. Then go back onto our District website to find out how to make contact with that club.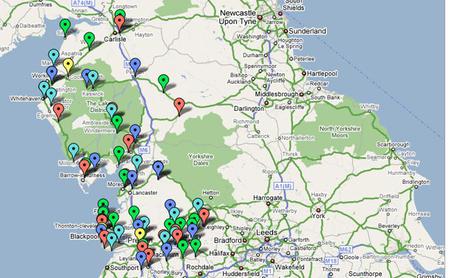 Good Luck!
Sub-Pages: