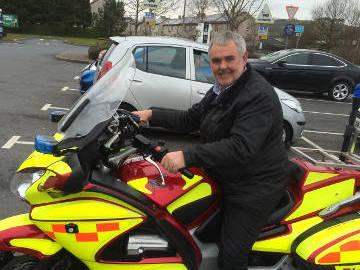 District Governor Malcolm Baldwin's pages
District Governor Malcolm Baldwin
Our District Governor for 2016-2017 is Malcolm Baldwin. Read the pages at the right to find our more. To contact Malcolm his email address from 1 July 2016 is governor@rotary1190.org.
DG's Charity - Blood Bikes
Donations are already coming in which is great news and I thank you very much. Our District is covered by 2 Blood Bike groups and my aim is to try to provide each group with a new 'liveried' motorbike. If you are able to support me, please send your donation to Barry Stephenson our District Treasurer. If you send your donation direct to one of the groups, please could you let me know then we can keep a 'tally' on how much we raise.
Both groups are more than willing to provide a speaker for any of your meetings. I understand that they have spoken to a number of Clubs already.
Positions Vacant
Bob Redhead, the committee chair for RYLA and RYPEN, has indicated that he wishes to stand down from his role at the end of the year so if there is anyone out there who would like to take over please get in touch with him or Shaun Ashworth - District Youth Chair. It is important that we are able to continue to arrange these courses which prove to be most beneficial for our youngsters.