District Youth Services 2019 - 2020
Update on the year ahead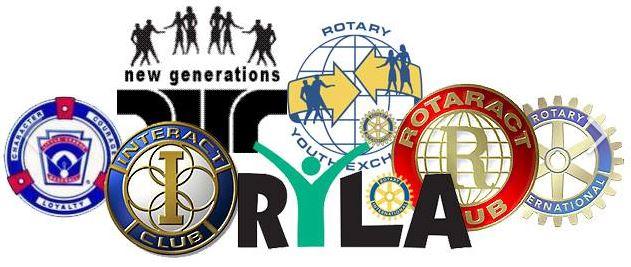 It is amazing that seven weeks have gone by of the Rotary year already. So many great club projects are going on, to help increase the opportunities for the young people in our communities. Thank you!
RYLA
Thank you to Eddie Sims for leading on yet another very successful course; we have had super feedback from the young people who took part. Really appreciate the commitment and support from the clubs and individual Rotarians whose hard work made this possible. We are currently planning the 2020 course. Listening to feedback it is likely to be revamped to run for five days starting on a Monday and be for 32 participants. This will reduce the cost and make it easier for young people as it won't be over a weekend. Watch this space for more information. and please in the meantime have a think about if your club would like to be involved as we will need to commit by the end of September.
Posters and certificates for Youth Competitions
RIBI have now made the posters available from https://www.rotarygbi.org/projects/young-people/competitions/
Certificates are coming but still work in progress. Sorry!
Dates for district finals
8 Feb Speaks / Debate, Photographer and Writer at Maisemore
9 Feb Musician
29 Feb Chef
Young Scientist
Following recent consultations RIBI have decided to postpone the launch of the above until 2020 as it was felt that the format proposed did not wholly meet the specification for the competition format.
Join the youth team
These activities and competitions only happen because Rotarians kindly step forward to make them happen. Massive thank you to everyone who does.
Currently we have vacancies to lead on Young Chef and Musician, RYLA and Technology. Please let me know if you or a member of your club could spare some time to get involved.
Let's celebrate and share what's working!
It is always super to have the opportunity to recognise the many and varied competitions, activities and projects that clubs arrange.
Do let me know if I can help in any way to share ideas and enthusiasm as well as most importantly thank the members and your community partners who make these happen.
Mock interviews / mentoring / careers talks
Most schools when they reopen next month will be planning the above.
Are your members involved and sharing their experiences? If not could be a great way to pass these on, help young people decide on a career and forge links with schools???
Andy Jarrett, Youth Chair, RotaryD1100Youth@gmail.com
News
Read the August 2019 newsletter about RYLA. For more details on RYLA in 2020 click here.
Read about and listen to inspirational interviews with Rotary Young Citizen Award winners on BBC News Channel in May 2019
Read a summary of the Youth Activity Plan which was presented to the District 1100 Assembly in May 2019
Read the latest update and plans for our Youth programmes and activities following the District Assembly in May 2019
Read here the feedback on our Youth Services from the District Council in October 2018
Read also the results of the RIBI Root and Branch review of Youth Services.
Youth Services Overview
The menu to the right and the details below will give you a good idea of what District 1100 does in terms of youth opportunities. There are three types of opportunities as follows:
Programmes:

are intended to help young people develop new friendships and achieve their full potential. The programmes are designed to stimulate interest and understanding in the young persons community and the wider world.
Broadly speaking, these are junior Rotary Clubs designed for youngsters at Junior School (Rotakids), Senior School (Interact) and beyond school until 30 years of age (Rotaract).
Other Opportunities:

include Rotary Youth Leadership Awards: a 6 day / 5 night residential leadership training course in the Forest of Dean, for 16 to 18 year olds; participation in the Rotary World Affairs and funding for youth activities from the Children's Holiday Trust.
Many Rotary Clubs also help schools with mock interviews and enterprise activities.
Competitions:

are usually RIBI National Competitions, but clubs are free to use their own rules to do their own thing locally. Typical competitions include public speaking, musicians, writing, cooking, art, football, citizenship, photography and technology.
Click here for the latest summary (September 2019) of all the Youth programmes and competitions for 2019-2020, with dates and contact details.
Click here for advice on how to contact schools.
Follow us at www.Facebook.com/RotaryD1100Youth for updates.
Email Andy Jarrett, Youth Chair: RotaryD1100Youth@gmail.com for more information or how to get involved.
.