Rotary International District 1190

Home | Sports | Ten Pin Bowling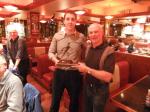 For 2012-13 the rounds take place between September 8th 2012 and 6th January 2013. The Semi Final will be in January and the District Final in February 2013.
In 2012 the winning team were from the Rotary Club of South Ribble
This in 2011 was won by Clitheroe Rotary Club who played Windermere Rotary Club at Lakeside Bowl in Preston on the evening of 24th March.
The Winning team from Clitheroe
Both Windermere and Clitheroe teams and supporters