Rotary International District 1100

Rotary Friendship Exchange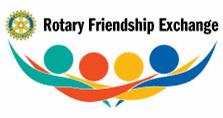 Rotary's Friendship Exchange programme (RFE) is one of our 'best kept secrets', but for those Rotarians and their partners who have discovered the secret, it has proved to be both a rewarding and worthwhile experience. Districts 'exchange' with Districts in other countries, and in recent years, we in District 1100, have enjoyed exchanges with colleagues in South Africa, New Zealand, the South Pacific, Australia, Canada, the United States and Argentina.
Up to five couples from District 1100 are welcomed into the homes of Rotarians in the hosting District. During the usual two week visit, the RFE 'team' will enjoy a guided social and cultural tour of the District. It will visit a number of Rotary Clubs during their stay, when they will give a short presentation about themselves, their families and homes, and the work undertaken by their own Rotary Clubs. The Team Leader, someone with previous RFE experience, and not necessarily the most senior Rotarian arranges pre-travel meetings to agree presentations, co-ordinate travel plans and when necessary, advise upon RFE protocol. It is also customary for one member of the team to act as "banker". Team members often extend their stay to travel further afield, or to visit friends or relatives en-route.
The 'exchange' takes place when their RFE team returns to District 1100. This may be up to a year after the first visit.
Members from our District host the visiting RFE team, usual in 'all four corners' of the District. Hosts are committed to a three or four night hosting arrangement, and to take an active part in the programme of events in their part of the District. All team members pay their own way, so hosts should incur no costs apart from those incurred in hosting. Visiting Rotarians often invite their hosts to join them for an evening meal, as a means of saying 'thank you'.
Further RFE exchanges are planned and will be advised on the District web site. If interested in finding out more about any proposed RFE opportunities, contact PDG Alan Martin (RC Marlborough & District) RFE Chair, District 1100. Be assured, that declaring an interest, does not commit Rotarians to the exchange.

The RFE opportunities in District 1100 are shown in the "Sub-Pages" section at the foot of the left navigation panel.
Sub-Pages: